Stuffed Cabbage Rolls
Wrap your dinner in vegetables and it's BASICALLY like eating a salad. ?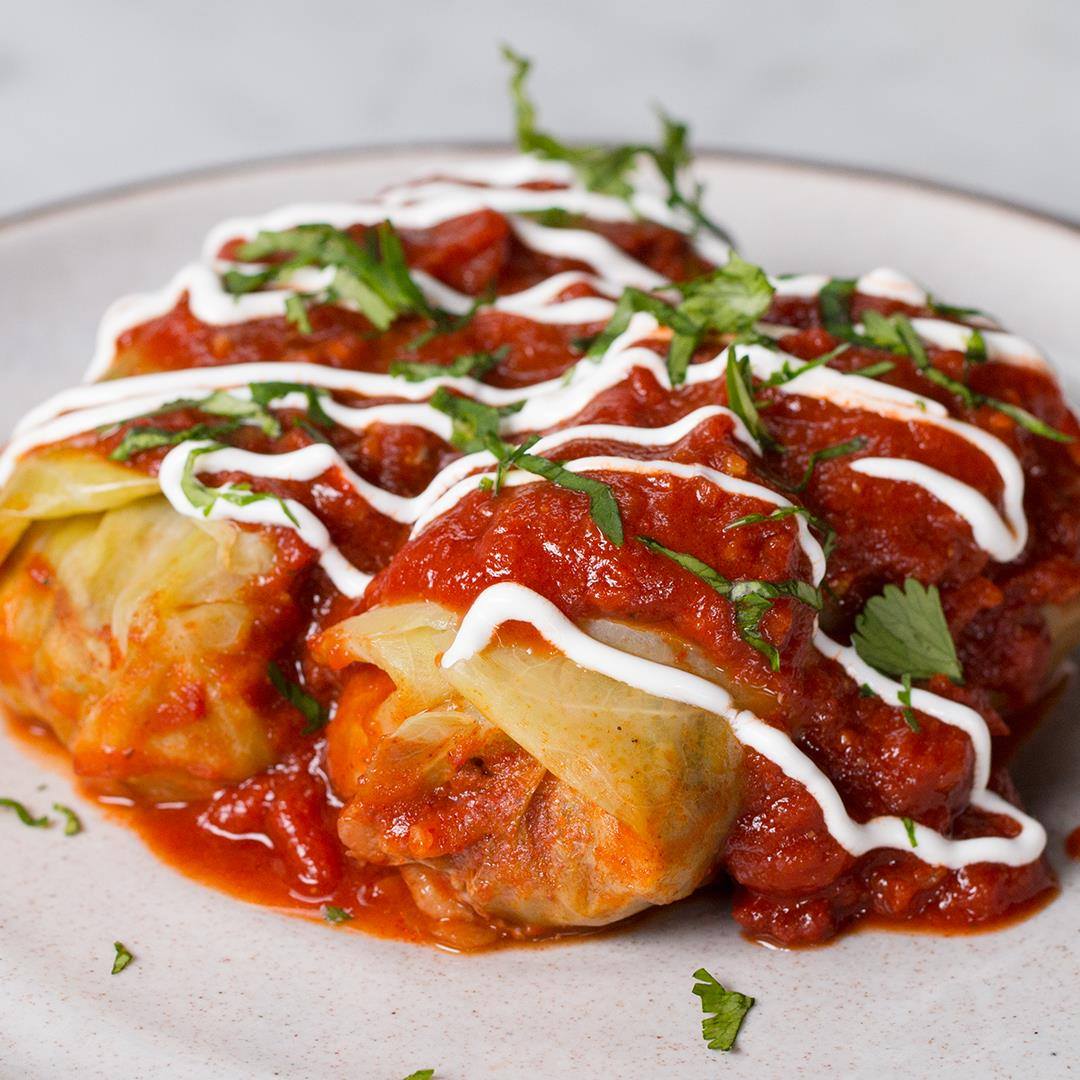 Ingredients
SAUCE
2 tablespoons olive oil
2 cloves garlic, minced
28 oz crushed tomato, 1 can (795 g)
1 tablespoon paprika
1 ½ teaspoons chili powder
1 teaspoon ground cumin
salt, to taste
black pepper, to taste
CABBAGE ROLLS
1 lb ground beef (455 g)
salt, to taste
black pepper, to taste
1 teaspoon chili powder
1 teaspoon ground cumin
2 teaspoons dried oregano
½ cup white rice, uncooked medium grain (100 g)
1 green cabbage, core removed
sour cream, for serving
fresh cilantro, for garnish
Instructions
In a medium pan over medium heat, heat the olive oil until shimmering, then cook the garlic until fragrant, for 1-2 minutes.
Stir in the crushed tomato, paprika, chili powder, ground cumin, salt, and pepper. Reduce the heat to medium-low and simmer for 10 minutes. Set aside to cool.
In a medium bowl, combine the ground beef, salt, pepper, chili powder, cumin, oregano, rice, and 1 cup (260 G) of tomato sauce. Mix until combined. Refrigerate until ready to use.
Bring a large pot of water to a boil over high heat. Add the cabbage, cut side down. Cover with a lid, reduce the heat to medium, and simmer for 15 minutes.
Preheat the oven to 350°F (180°C) for 45 minutes.
Transfer the cabbage to a cutting board, cut side up, and let cool until it reaches room temperature.
Peel off a layer of the cabbage. With the stem facing upwards, use a paring knife to trim the thicker stem, which will make the leaf easier to roll. With the stem side pointed towards you, place a few tablespoons of filling at the base of the leaf.
Roll upwards so the filling is covered by a single layer of the cabbage. Fold both sides in, then roll all the way up.
Place the cabbage roll seam side down in a 9x13-inch (23x33 -cm) baking dish and repeat with the remaining filling.
Spoon the remaining tomato sauce over the cabbage rolls.
Cover the dish tightly with foil and bake for 45 minutes.
Enjoy!
Watch the recipe video here:
Wrap your dinner in vegetables and it's BASICALLY like eating a salad. ?FULL RECIPE: https://tasty.co/recipe/stuffed-cabbage-rolls

Posted by Tasty on Sunday, October 7, 2018