Creamy, Garlicky Shrimp Skillet
This super-quick and indulgent weeknight dinner takes a slight left turn from the standard fettuccine Alfredo. Red peppers and paprika transform it from expected to spectacular.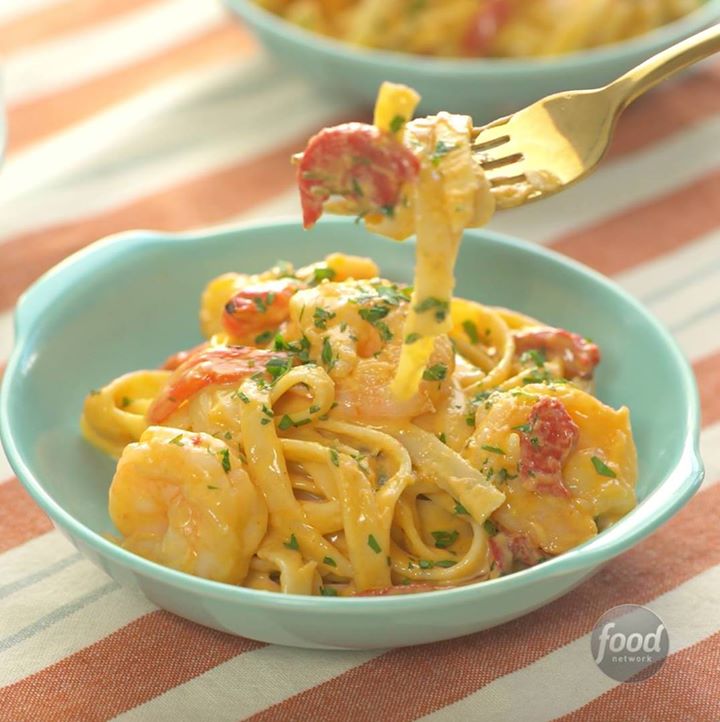 Ingredients
Kosher salt
12 ounces fettucine
3 tablespoons unsalted butter
3 cloves garlic, thinly sliced
One 12-ounce jar roasted red peppers, drained and sliced in ½-inch-thick strips
1 teaspoon sweet or smoked paprika
2 cups heavy cream
1 pound medium peeled and deveined shrimp, tails removed
1½ cups grated Parmesan
1 tablespoon fresh flat-leaf parsley, chopped
Instructions
Bring a large pot of salted water to a boil. Add the pasta and cook according to the package instructions for al dente. Drain and set aside.
Meanwhile, melt the butter in a large skillet over medium heat. Stir in the garlic, red peppers and paprika and cook, stirring occasionally, until the peppers are heated through and the butter is fragrant and vibrant red, about 2 minutes. Add the cream and bring to a boil. Reduce the heat to medium low and simmer, stirring occasionally, until slightly thickened, 3 to 4 minutes.
Add the shrimp and cook until they are firm and cooked through, about 5 minutes. Add the cooked pasta, Parmesan and 1 teaspoon salt and toss until well coated (see Cook's Note). Sprinkle with parsley.
Watch the recipe video here: