Instant Pot Jalapeño Cheddar Cornbread
A perfect combination of spicy and sweet.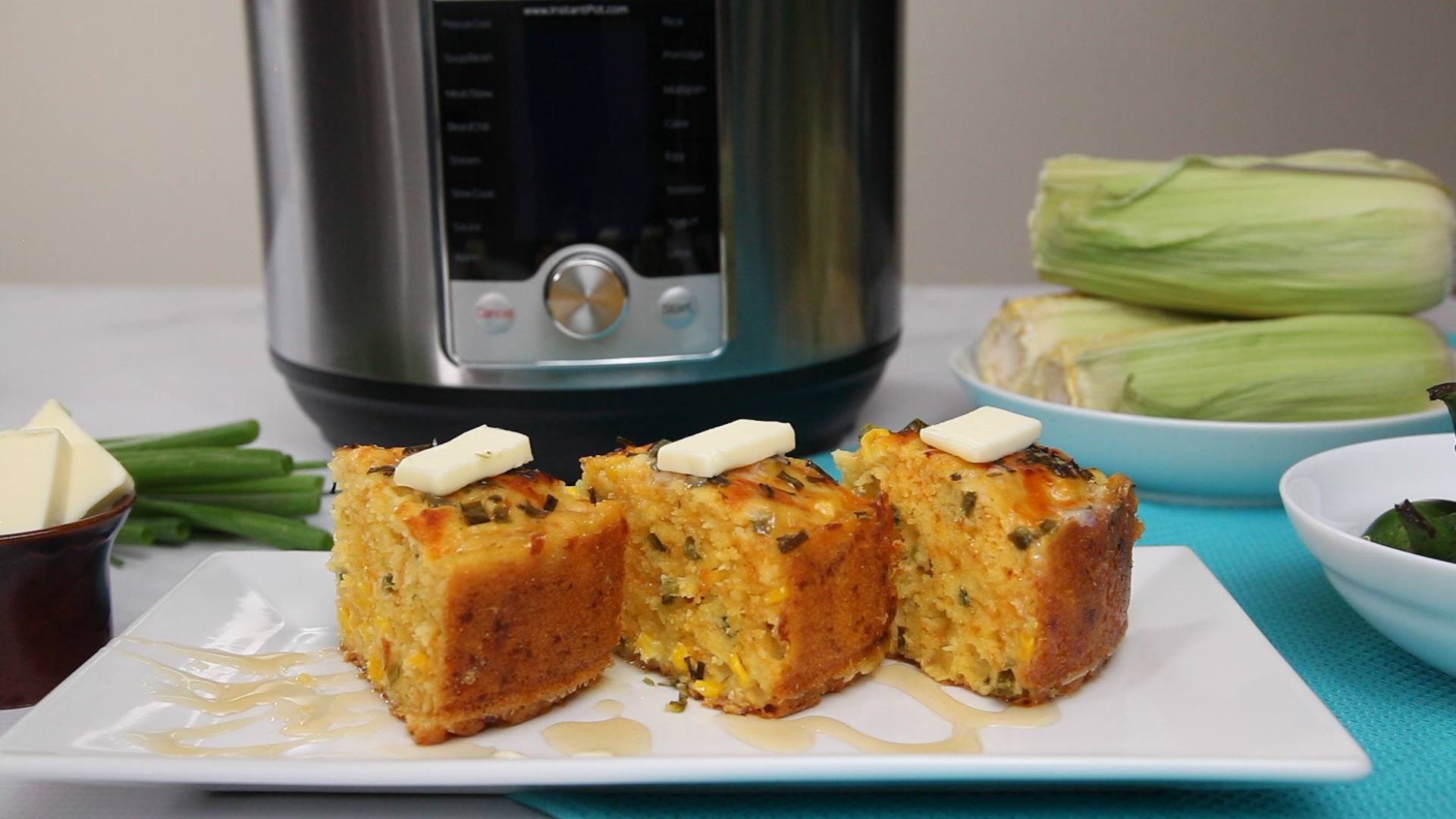 Ingredients
1 cup yellow cornmeal, plus additional to coat pan
¾ cup all-purpose flour
2 tsp baking powder
1 tsp salt
1 cup sharp cheddar cheese, shredded
1 cup corn kernels (fresh or frozen)
2 large jalapeno peppers seeded, finely chopped
¼ cup green onions, thinly sliced
¾ cup buttermilk
¼ cup honey
¼ cup butter, melted
2 eggs, beaten
Additional cheese, diced jalapeno and green onion for topping (~1 tbsp each)
Instructions
In a large bowl, combine cornmeal, flour, baking powder, and salt. Gently fold in grated cheese, corn, diced jalapenos, and scallions until well distributed.
In a medium bowl, whisk together buttermilk, honey, butter, and eggs. Pour over dry ingredients and mix gently until just combined. Do not overmix.
Coat inside of a 7" cake pan with non-stick spray and dust with additional cornmeal. Spoon batter into prepared pan and top with ~1 tbsp each cheese, diced jalapeno, and green onion.
Spray one side of a piece of aluminum foil and cover the pan loosely, sprayed side down – do not seal.
Pour one cup of water in the Instant Pot and insert the trivet. Carefully lower the cake pan on to the trivet and secure the lid, making sure vent is closed.
Using the display panel select the MANUAL function*. Use the +/- keys and program the Instant Pot for 30 minutes.
When the time is up, let the pressure naturally release for 15 minutes, then quick-release the remaining pressure.
Remove the pan and set it under the broiler until golden, 2-4 minutes (optional).
Watch the recipe video here: