Double Crunch Glazed Chicken
Double the delish.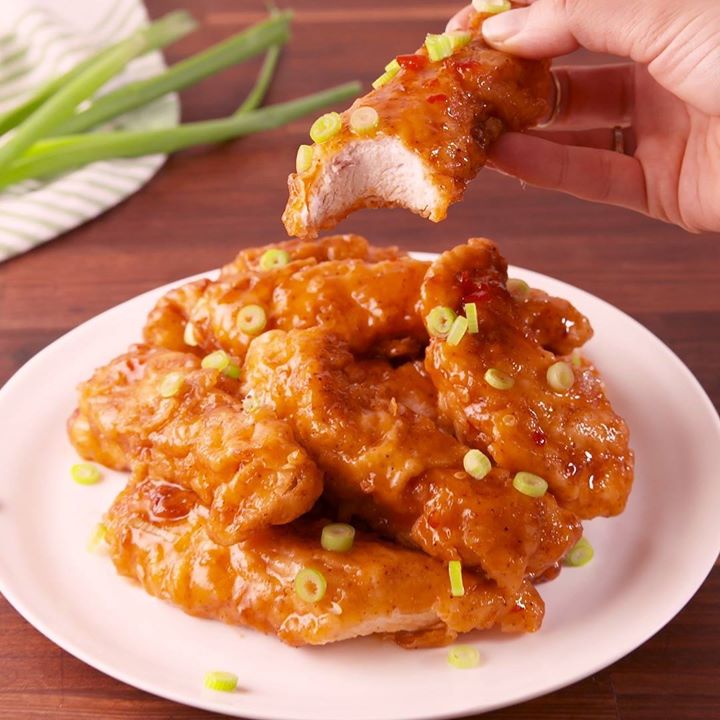 Ingredients
1½ c. flour
1 tsp. garlic powder
½ tsp. ground ginger
½ tsp. chili powder
kosher salt
Freshly ground black pepper
2 eggs, beaten with 1 tbsp water
3 boneless, skinless chicken breasts, cut into tenders
vegetable oil
FOR SAUCE
½ c. sweet chili sauce
1 tbsp. sriracha
2 tsp. sesame oil
½ tsp. garlic powder
Juice of 1 lime
Thinly sliced scallions, for garnish
Instructions
In a medium bowl, combine flour with garlic powder, ground ginger, chili powder, a generous pinch of salt and some black pepper. Stir until spices are evenly distributed.
Dredge chicken tenders first in flour, then egg, and then flour again. Repeat until all tenders are breaded.
Make sauce: in a medium bowl, combine chili sauce, sriracha, sesame oil, garlic powder and lime juice. Whisk to combine.
In a large skillet over medium heat, add ½" vegetable oil to bottom of pan. When oil spits when a drop of water is added, fry tenders in batches until golden on all sides, 2 to 4 minutes a side. Remove and place on a paper towel lined plate and season with salt and pepper.
Toss tenders in sauce, garnish with scallions and serve.
Watch the recipe video here: