Roast Prime Rib
The cooking method for this show-stopping roast may seem unconventional, but that's by design: Roasting at an initial high temperature sears the outside into a crust, then shutting off the oven and leaving the roast inside allows it to cook itself to the perfect medium rare. Use that time to whip up the creamy horseradish sauce and visit with your guests.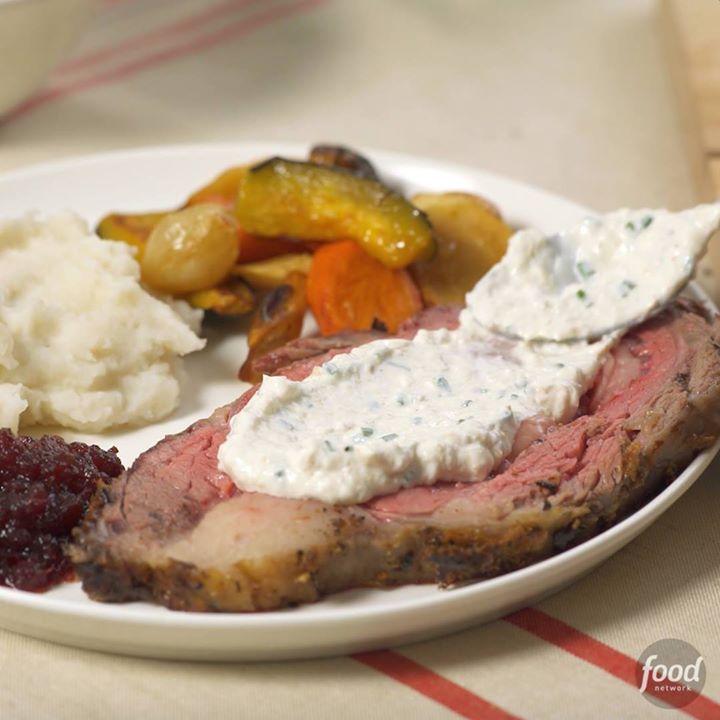 Ingredients
Prime Rib:
2 sticks (1 cup) unsalted butter, at room temperature
¼ cup prepared horseradish
2 tablespoons mixed or tri-color peppercorns, coarsely cracked
Kosher salt
One 7- to 8-pound boneless prime rib roast
Sauce:
2 cups sour cream
⅔ cup prepared horseradish, drained
Kosher salt and freshly ground black pepper
1 bunch fresh chives, coarsely chopped (about ¾ cup)
Instructions
For the prime rib: Preheat the oven to 500 degrees F. Put the butter, horseradish, peppercorns and 2 tablespoons salt in a medium bowl and stir until evenly combined. Slather the seasoned butter evenly over the top and sides of the roast (leave the bottom bare) and put on a rack set in a large roasting pan. Roast for 35 to 40 minutes (5 minutes per pound), then turn the oven off and let the roast sit inside the oven for 1½ hours (do not open the oven door during this time). It should be dark golden brown on the outside and medium rare on the inside.
For the sauce: Meanwhile, whisk the sour cream, horseradish, 2 teaspoons salt and 1 teaspoon pepper together in a medium bowl until well combined. Stir in the chives, cover and refrigerate until ready to serve.
Cut the roast into 1-inch-thick slices and serve with the sauce.
Watch the recipe video here: