Microwave Meal-Prep Lasagna
Put your soggy turkey sandwich days behind you.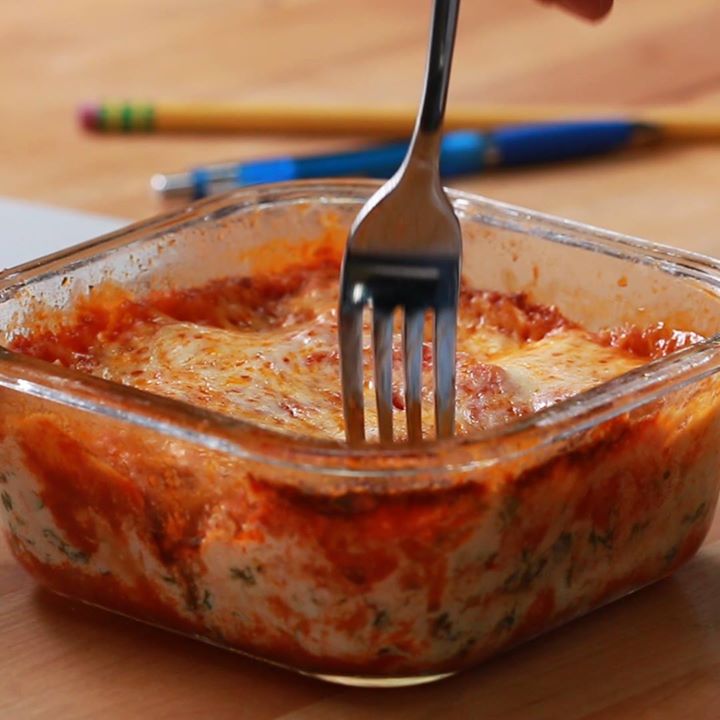 Ingredients
½ cup ricotta cheese
¼ cup spinach, chopped
2 tablespoons parsley, chopped
2 tablespoons grated Parmesan, divided
½ teaspoon salt
¼ teaspoon pepper
¼ cup marinara sauce
4 no-boil lasagna noodles, broken in half
½ cup mozzarella
Instructions
In a small bowl, mix the ricotta, spinach, parsley, one tablespoon of Parmesan, salt and pepper until combined.
In the glass container, spread a layer of tomato sauce.
Top the tomato sauce with the lasagna noodles and cover the noodles with a layer of the ricotta mixture.
Top the ricotta with another layer of tomato sauce and a layer of mozzarella.
Continue with another layer of noodles and repeat.
Cover the top layer of lasagna noodles with more tomato sauce and a layer of mozzarella and Parmesan.
Place the lid on the glass container, without locking it closed.
Microwave for 7 minutes or until the cheese is melted through.
Remove from the microwave carefully, the container will be hot!
Allow to cool and refrigerate, or enjoy immediately. Enjoy!
Watch the recipe video here:
This microwave meal-prep lasagna is a time-saver and is also super dorm-friendly ?!FULL RECIPE: http://bzfd.it/2fQrnvo

Posted by Tasty on Wednesday, September 27, 2017