Chicken Spinach Artichoke Lasagna
If you know spinach-artichoke dip is the best way to start a party, you can only guess what layering it in lasagna does.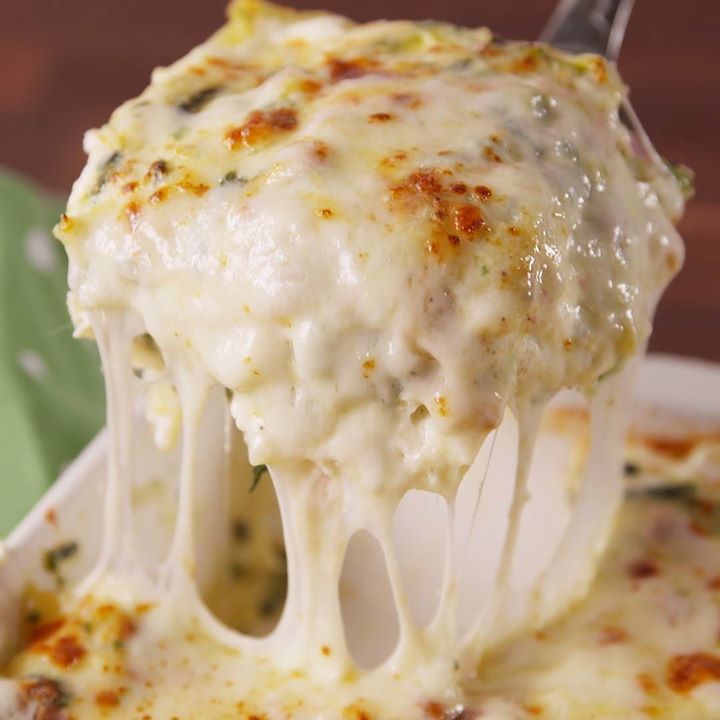 Ingredients
1 lb. lasagna noodles
3 tbsp. butter
2 cloves garlic, minced
3 tbsp. all-purpose flour
3 c. skim milk
kosher salt
Freshly ground black pepper
1 c. freshly grated Parmesan
2 c. shredded rotisserie chicken
½ lb. frozen chopped spinach, defrosted and drained
1 15-oz. can artichoke hearts, chopped
2 pints skim ricotta
4 c. shredded mozzarella
Instructions
Preheat oven to 350º. In a large pot of salted boiling water, cook lasagna noodles until al dente. Drain and transfer to a sheet pan to cool.
Meanwhile, in a large skillet over medium heat, melt butter. Add garlic and cook until fragrant, 1 minute, then add flour and whisk until golden brown, 1 minute more. Pour over milk and season with salt and pepper. Bring to a simmer and let thicken, 2 to 4 minutes. Add Parmesan and stir until creamy, then add shredded chicken, spinach, and artichokes and stir until combined.
Assemble lasagna: In a large baking dish, spread a thin layer of the sauce mixture. Top with a layer of lasagna noodles, slightly overlapping each, a layer of ricotta, a layer of the chicken mixture, and a layer of mozzarella. Repeat for three layers, ending with mozzarella.
Cover with foil and bake until warm and bubbly, 35 minutes. Broil until cheese is golden, 2 minutes more.
Let cool 10 minutes before slicing and serving.
Watch the recipe video here: