Sheet Pan Pizza Lasagna
Two of Italy's greatest imports - lasagna and pizza. Saucier than Virgil and more dangerous, cholesterol speaking, than the Mafia. Why has it taken us to this point, this pivotal moment in cuisine, to think of smashing them together? We don't know. All we know is that we've hit a colossal jackpot with this one and it's delicious.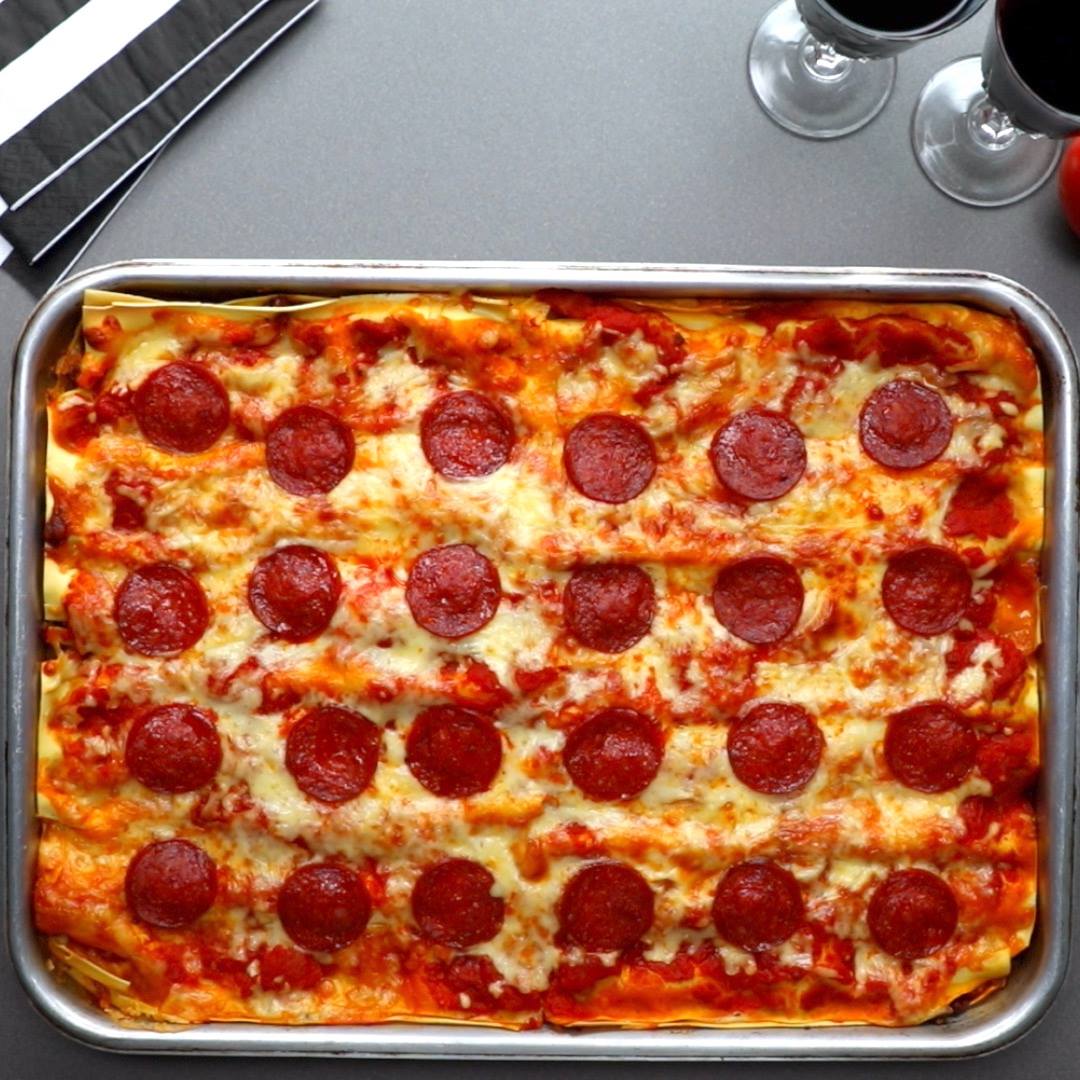 Ingredients
3 tbsp olive oil
1kg beef mince
1 large onion, very finely chopped
1 large carrot, very finely diced
2 sticks of celery, very finely diced
200g pancetta or streaky bacon, cut into very small chunks
3 cloves garlic, crushed
1 x 400g tin chopped tomatoes
4 tbsp tomato puree
300ml rich beef stock
350ml red wine
1 tbsp demerara sugar
Salt & freshly ground black pepper, to taste
50g butter
40g flour
700ml milk
1 tsp salt
1 tsp pepper
¼ nutmeg, freshly grated
12 fresh lasagna sheets
40g parmesan
400g grated mozzarella
400g passata
Pizza pepperoni
Instructions
In a large frying pan heat the olive oil. Take chunks of the mince mix and fry them like meatballs, frying to get some colour on each side. Do this in two batches so as not to overcrowd the pan, keeping the cooked chunks in a bowl to the side. When you've browned all the meat add it all back to the pan, breaking up the chunks with a wooden spoon and cooking through. Remove from the heat and place all the meat in a large bowl.
Add a splash more oil. Fry the onion, carrot and celery together until soft, then remove from the pan and add to the bowl with the meat.
Take a casserole dish with a lid. Fry the pancetta until it's crispy and has let off most of its fat, then add the garlic and fry until fragrant. Add all the cooked bits back to the casserole along with the tomatoes, tomato puree, beef stock, red wine and sugar. Bring to a simmer.
Place a lid on, leaving it slightly ajar and cook really gently for about two hours, stirring every now and then.
Meanwhile, make the bech.
In a saucepan heat the butter until foaming but not browning, then add the plain flour and stir vigorously with a wooden spoon until you've made a smooth paste. Careful not to cook for too long, around 30 seconds should be good.
Add a splash of the milk and stir really vigorously. Get your arm into it.
Keep adding the milk, a good splash at a time, beating it in as you go.
When all the milk has been incorporated and there are no lumpy bits season with salt and pepper. Keep cooking for around ten minutes, stirring frequently, then season with nutmeg, salt and pepper. Pour into a jug.
Oil a large tray with a lid. Pour a third of of the bechamel 0nto it and and top with four lasagna sheets. Top with a thin layer of ragu, sprinkle with parmesan and mozzarella. Repeat this twice, then top with final layer of pasta sheets and top with passata, lots of mozzarella and pepperoni.
Cover loosely with foil and bake for 30 minutes then uncover for a final ten.
Watch the recipe video here:
Sheet Pan Pizza Lasagna

Posted by Twisted on Wednesday, October 3, 2018