Fried Lasagna Nuggets
Few words are more evocative than lasagna - comfort food, scourge of waistlines, fetishised lust meal of cartoon cats. Here at Twisted Towers we love paying homage to one of Italy's great culinary exports with a cheeky twist, and this might be one of our favourite yet. Tasty little chunks of lasagna deep fried until crispy on the outside, gooey with mozzarella and rich ragu on the inside.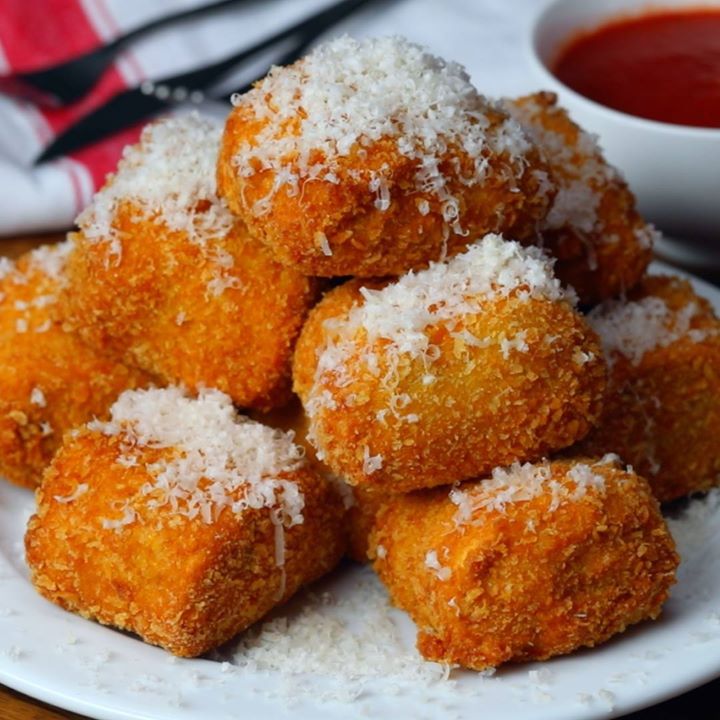 Ingredients
4 lasagna sheets
1 cup ricotta
1½ cups ragu
16 sheets mozzarella
1 cup flour
3 eggs, beaten
2 cups panko breadcrumbs
Oil for frying
Parmesan
Instructions
Par boil the lasagna sheets and lay each one flat. Spread on the ricotta and ragu then lay the sheets of mozzarella on top. Roll up from one end to the other then place on a tray, repeat with the remaining mix and leave to set in the freezer for half an hour or so for them to set.
Cut each roll into four and then dip each piece first in the flour, then the egg, then the breadcrumbs, then the egg and then breadcrumbs again.
Fry in batches of three for roughly four minutes until golden brown and crispy.
Grate with parmesan and serve with marinara sauce.
Watch the recipe video here:
Fried Lasagna Nuggets

Posted by Twisted on Monday, January 15, 2018