Bacon-Wrapped Parmesan Garlic Knots
We wrapped garlic knots in bacon and we'll probably never go back ?...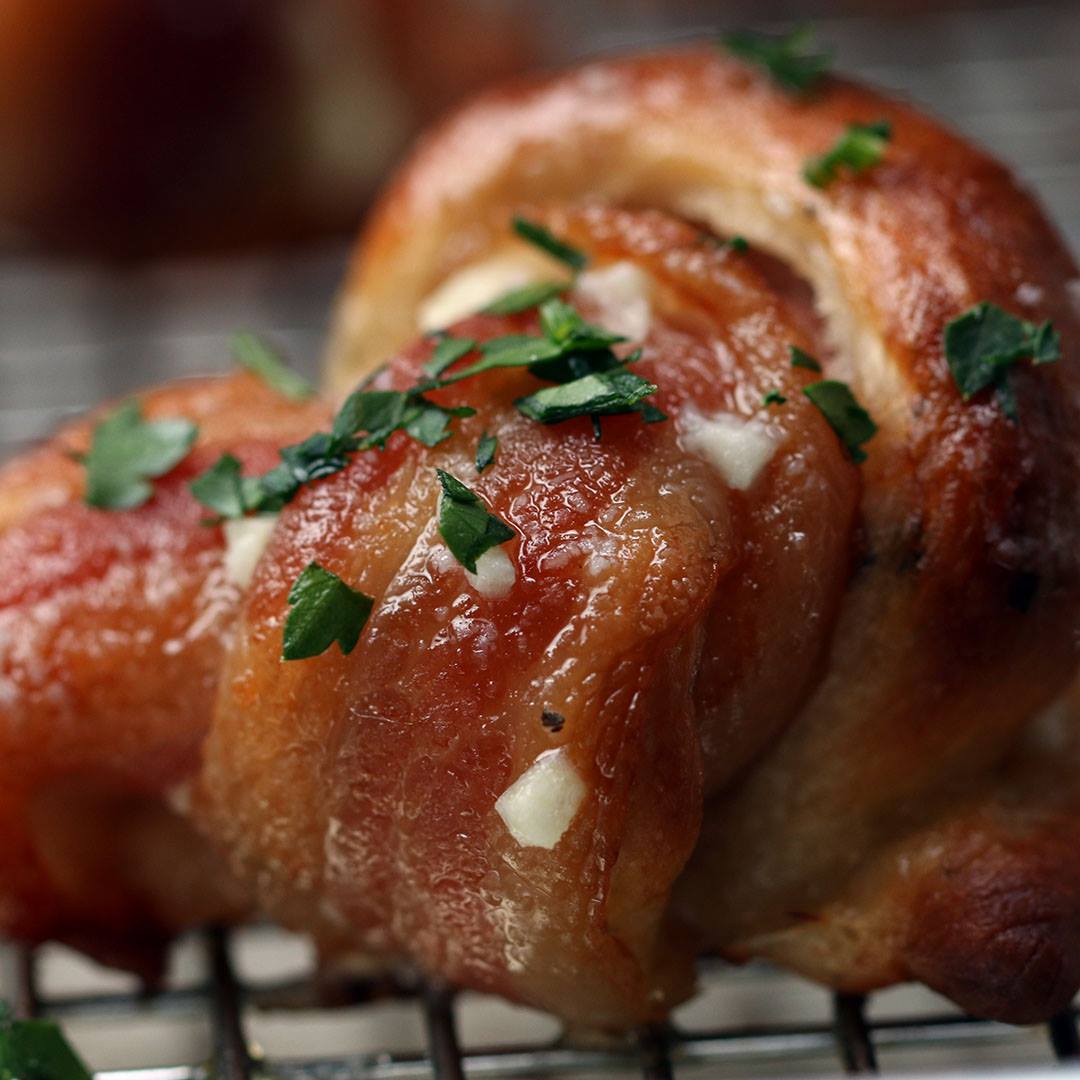 Ingredients
1 ⅓ cups warm water (320 mL)
1 ½ teaspoons active dry yeast
3 ½ cups all-purpose flour (435 g)
¼ cup grated parmesan cheese, plus 2 tsp, divided (30 g)
2 teaspoons sugar
1 teaspoon baking powder
1 teaspoon kosher salt
1 teaspoon dried basil
1 teaspoon dried oregano
3 tablespoons olive oil, divided
30 strips bacon
5 tablespoons unsalted butter, melted
4 cloves garlic, minced
1 tablespoon fresh parsley, chopped, for serving
marinara sauce, for serving
Instructions
Add the warm water to a medium bowl. Sprinkle the yeast over the water and let sit for 5 minutes, or until mixture is frothy.
In a large bowl, whisk together the flour, Parmesan cheese, sugar, baking powder, salt, basil, and oregano.
Add 2 tablespoons of olive oil and the yeast-water mixture. Mix with a rubber spatula until a ball of dough forms.
Dump the dough out onto a clean surface and knead for about 5 minutes, until the dough is springy.
Grease the large bowl with the remaining tablespoon of olive oil. Place the dough in the bowl, cover with plastic wrap, and let rise in a warm place for 1 hour, or until doubled in size.
Preheat the oven to 425°F (220°C).
Sprinkle a bit of flour over the dough then dump onto a clean surface. Tear the dough into 30 separate pieces, then roll into 6-inch (15-cm) long strips.
Place a strip of bacon over each dough strip. Tie both together to form a knot.
Place the knots on a wire rack placed over a baking sheet.
Bake for 20 minutes, or until bread is golden brown and the bacon is crispy.
In a small bowl, mix together the butter, garlic, and remaining 2 teaspoons of Parmesan cheese.
Brush the knots with the butter mixture and bake for another 5 minutes.
Transfer to a serving plate. Garnish with chopped parsley.
Serve with marinara sauce alongside.
Enjoy!
Watch the recipe video here:
Bacon-Wrapped Parmesan Garlic Knots

We wrapped garlic knots in bacon and we'll probably never go back ?…FULL RECIPE: https://tasty.co/recipe/bacon-wrapped-parmesan-garlic-knots

Posted by Tasty on Tuesday, October 2, 2018