Chocolate French Toast Loaf
Chocolate French Toast Loaf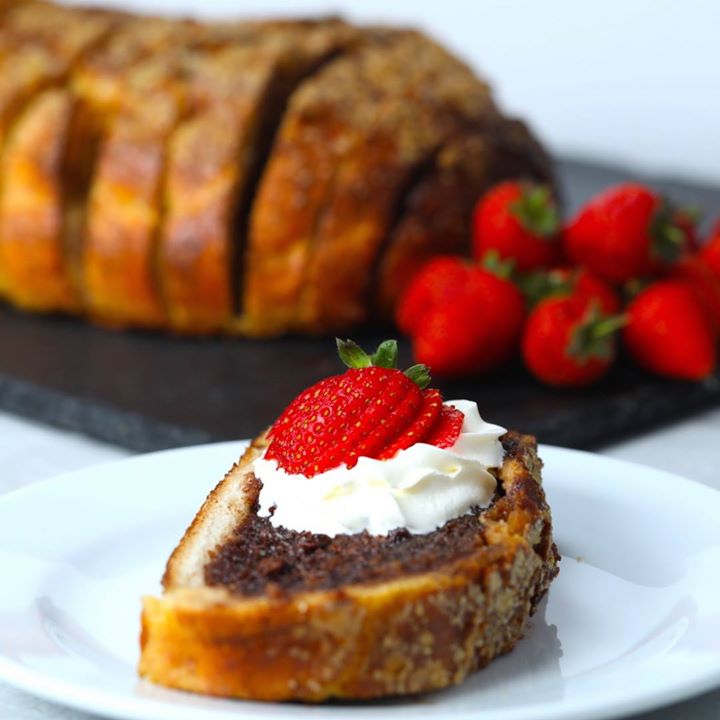 Ingredients
1 large loaf of bread
¾ cup chocolate hazelnut spread
4 eggs
1 cup cream
½ cup milk
3 tbsp sugar
2 tsp cinnamon
¼ cup butter, melted
3 tbsp coarse sugar
Instructions
Pre-heat oven to 180C (350F). Slice a loaf of bread into ½- inch slices without slicing all the way through.
Spread hazelnut spread on each slice evenly.
In a large measuring cup whisk together eggs, cream, sugar and cinnamon. Pour over loaf opening the slices to be sure to get inside.
Flip loaf upside down and soak for 20 minutes. Flip loaf back cut side up and soak for another 10 minutes.
Pour melted butter over cut-side of bread and sprinkle sugar evenly. Bake in the oven for 40 minutes until golden brown.
Serve with whipped cream, enjoy!
Watch the recipe video here:
Chocolate French Toast Loaf

Posted by Twisted on Monday, September 11, 2017