Rainbow Cake with Clouds
Some cakes stand on their own without icing. For this bright Rainbow Cake, use a little whipped cream to make fluffy clouds.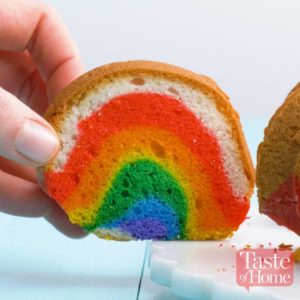 Ingredients
1 package white cake mix (regular size)
Purple, blue, green, yellow, orange and red paste food coloring
1 cup heavy whipping cream
3 tablespoons confectioners' sugar
½ teaspoon vanilla extract
Instructions
Preheat oven to 325°. Grease and flour a 10-in. fluted tube pan. Prepare cake mix according to package directions. Transfer 1-1/3 cups batter to prepared pan; spread evenly. Remove an additional 2 tablespoons batter to a small bowl; reserve.
Divide remaining batter into six separate bowls, tinting each with food coloring to make the following: 2 tablespoons purple batter, ¼ cup blue batter, ⅓ cup green batter, ½ cup yellow batter, ⅔ cup orange batter, and the remaining batter red.
Fill six small food-safe plastic bags with a different color batter. Cut a small hole in a corner of the red batter bag; pipe a wide ring onto white batter to within ½ in. of pan edges. Pipe a ring of orange in the middle of the red ring, leaving some red visible on each side. Repeat by piping remaining colors in the middle of the previous layer, in rainbow color order. (Each ring will be narrower than the previous layer.) Fill a bag with reserved white batter; pipe over purple ring only.
Bake 40-45 minutes or until a toothpick inserted in center comes out clean. Cool completely in pan on a wire rack.
Remove cake from pan; place on a serving plate. In a bowl, beat cream until it begins to thicken. Add confectioners' sugar and vanilla; beat until soft peaks form. Serve cake with whipped cream clouds.
Watch the recipe video here: