Potato Meatball Bake
Meat and potatoes - the remix!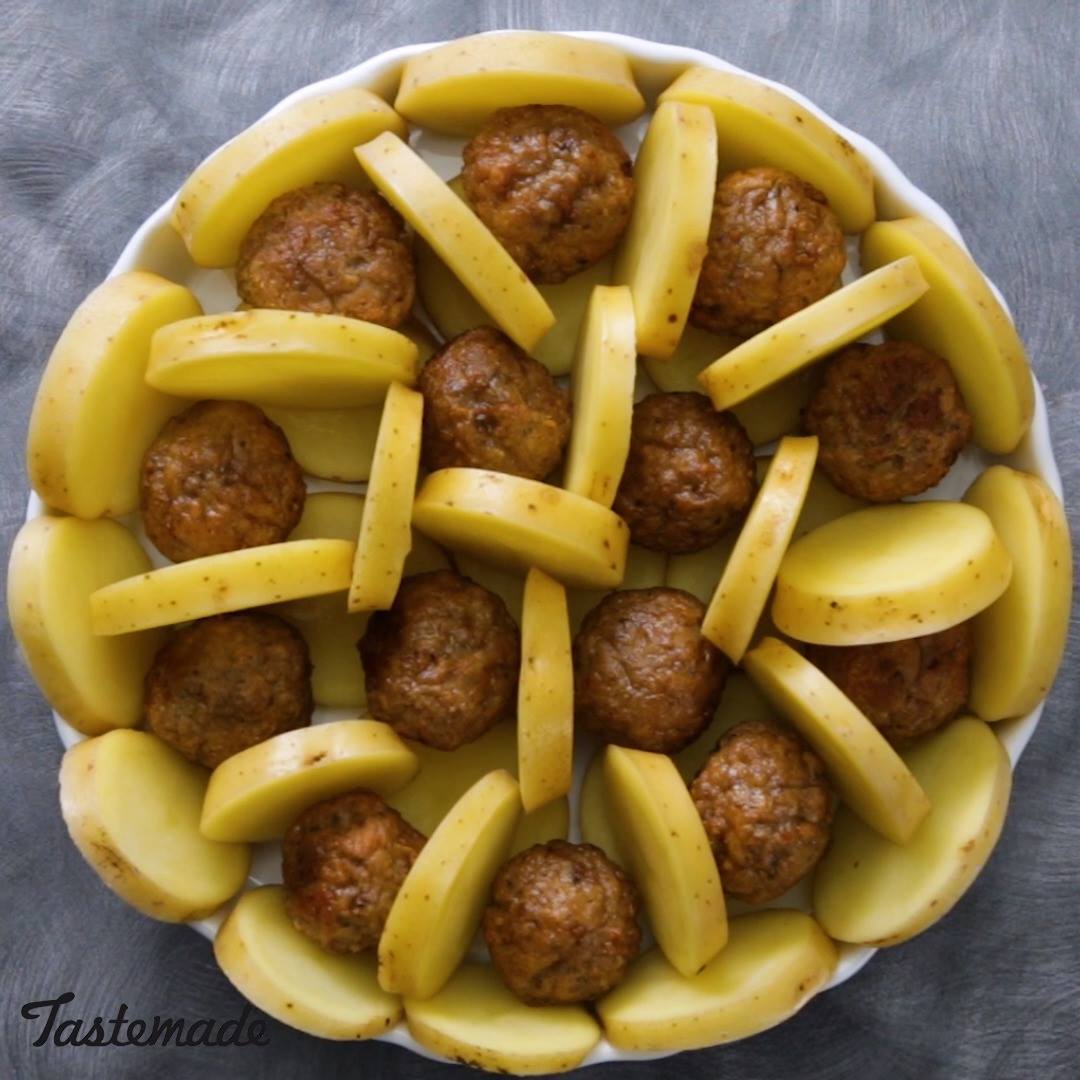 Ingredients
For the meatballs:
1 pound ground beef
½ cup yellow onion, finely diced
1 large egg
¼ cup panko
1 teaspoon salt
1 teaspoon chopped parsley
1 teaspoon oregano
¼ teaspoon black pepper
Lemon juice
For the cream sauce:
3 tablespoons butter
4 tablespoons all-purpose flour
2 cups whole milk
Salt and pepper, to taste
For the bake:
5 medium-sized Yukon gold potatoes, sliced into ¼-inch rounds
1 cup tomato puree
2 tablespoons chopped parsley
2 tablespoons chopped basil
½ cup shredded mozzarella
Instructions
Make the meatballs:
Preheat oven to 350 degrees, and line a baking sheet with parchment paper.
In a medium-sized bowl, combine beef, onions, panko and egg. Mix to combine. Add salt, herbs and spices. Finish with lemon, and gently mix to combine. Divide into approximately 22 one-inch balls, and bake for 12 to 15 minutes until golden. Allow to cool.
Make the sauce:
In a small saucepan, melt butter and add flour. Continue to stir until flour darkens slightly. Slowly pour in milk and continue to stir on medium-low heat until mixture thickens. Season with salt and pepper and allow to cool slightly while bake is assembled.
Assemble the bake:
Preheat the oven to 375 degrees. Line the bottom of a cast-iron or round casserole dish with 4 sliced potatoes. Place meatballs on top. Alternating between potato and meatball, place around the outside edge of the casserole dish. They should fit pretty tightly around. Carefully spoon tomato sauce over meatballs. Top with chopped herbs. Carefully spoon cream sauce over meatballs and potatoes and top with shredded cheese. Bake for 45 to 50 minutes until cheese and sauce are bubbling and the potatoes feel tender to the touch. Allow to cool for 15 minutes and serve immediately.
Watch the recipe video here:
Forget what you thought you knew about meat & potatoes.Taste for Yourself: taste.md/2IOQ5smTry Tastemade TV, Free for 7 days: https://taste.md/2zcId3s

Posted by Tastemade on Saturday, July 7, 2018