Giant Peanut Butter Cup Cheesecake
Make your sweet dreams a reality with a cake made with cream cheese peanut butter filling and topped with chocolate ganache.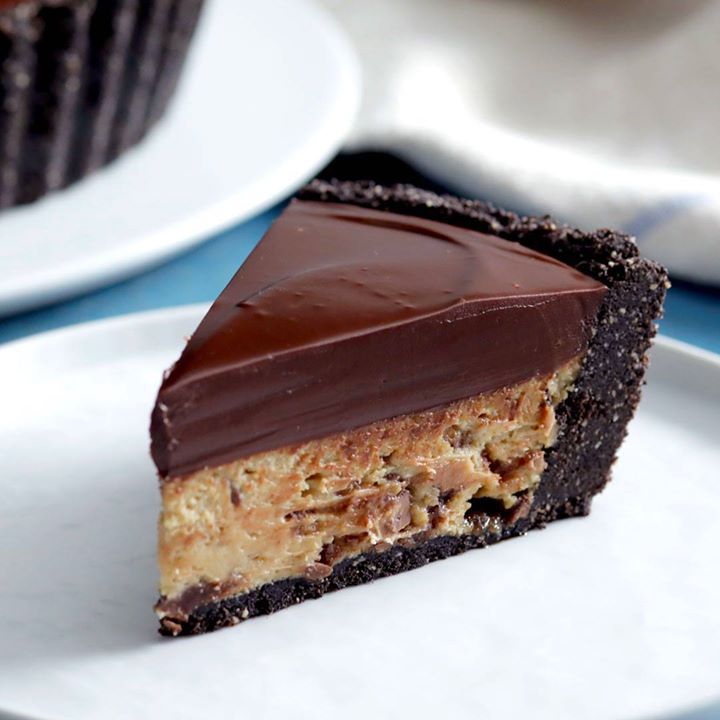 Ingredients
For the crust:
5 cups chocolate wafer cookies
1 cup peanuts, roasted and salted
½ cup butter, melted and slightly cooled
For the filling:
2 pounds cream cheese, softened
5 eggs, room temperature
1 cup dark brown sugar, packed
¼ cup granulated sugar
1¼ cups smooth peanut butter
½ cup heavy cream
1 vanilla bean, scraped
12 peanut butter cups, chopped
½ cup milk chocolate chips
For the ganache topping:
2 cups heavy cream
16 ounces chocolate, chopped
1 pinch salt
1 cup mini peanut butter cups
½ cup peanuts, roasted, salted and roughly chopped
Instructions
For the crust:
Mix all ingredients in a food processor and pulse until crumbly. Press into a 9½-inch deep-dish tart pan with removable bottom. Place in the refrigerator to chill.
For the filling:
Preheat oven to 275 degrees. In the bowl of a stand mixer, cream the softened cream cheese until fluffy. Add eggs, one at a time, until well incorporated. Add sugars, peanut butter, cream and vanilla bean and mix well.
Gently stir in the peanut butter cups and chocolate chips, then pour the filling into the prepared and chilled crust. Level the top gently. Place the tart pan on a large sheet of aluminum foil in a large baking pan. Pour water around the outside of the cheesecake, taking care not to allow the water to seep into the tart pan. Bake for about 1½ hours or until just firm.
Allow to cool for 20 minutes, then place the cheesecake in the refrigerator for at least 4 hours.
For the ganache:
In a heavy bottomed saucepan, bring cream just to boiling. Place the chopped chocolate and salt into a heatproof bowl and pour the cream over. Allow to sit without mixing for about 5 minutes. Whisk until shiny and smooth then pour over chilled cheesecake. Garnish with mini peanut butter cups and chopped peanuts. Serve immediately.
Watch the recipe video here:
https://www.facebook.com/tastemade/videos/1708245745929252/