4-Flavor Cheesecake
4-Flavor Cheesecake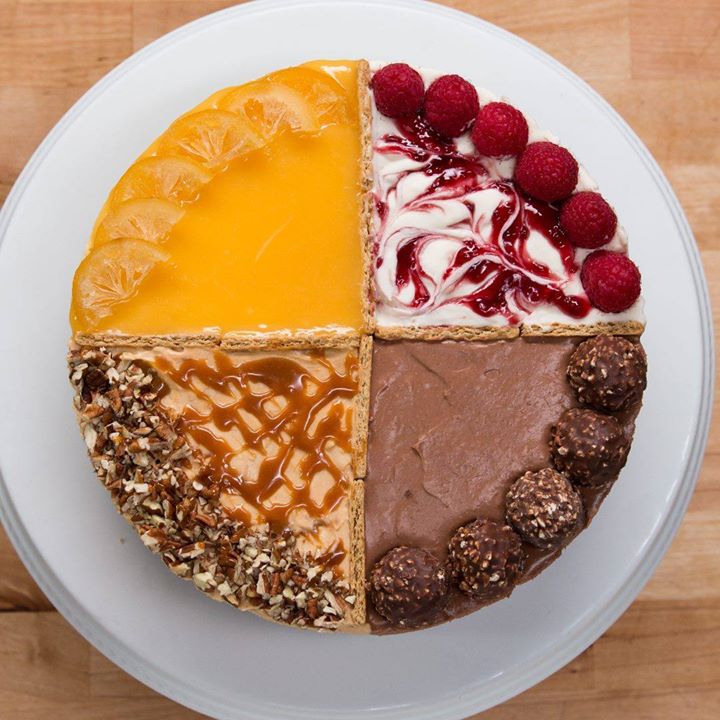 Ingredients
CRUST
20 graham crackers, crushed, plus 4 whole
2 tablespoons sugar
10 tablespoons unsalted butter, melted
CHEESECAKE FILLINGS
2 tablespoons gelatin powder, 2 packets
4 tablespoons water
24 oz cream cheese (680 mg)
1 cup sugar (200 g)
3 cups heavy whipping cream, divided (720 mL)
½ teaspoon vanilla extract
⅔ cup lemon curd, divided (165 g)
½ cup dulce de leche, warmed, plus more for garnish (150 g)
½ cup chocolate hazelnut spread (145 g)
1 tablespoon raspberry jam
8 fresh raspberries, for garnish
5 chocolate hazelnut truffles, for garnish
10 pecans, roughly charged, for garnish
5 candied lemon slice, optional, halved, garnish
Instructions
In a large bowl, mix together the graham cracker crumbs, sugar, and melted butter until combined.
Pour the crust mixture into a 9-inch (23 cm) springform cake pan. Press crumbs down firmly with the bottom of a small ramekin or glass to form an even base.
Carefully break the remaining graham crackers in half, so that you have 8 squares.
Push the graham crackers into the crust with the split line facing upwards to form an X shape, dividing the crust into four equal sections.
Press down on the crust one more time to ensure the graham crackers are secure. Cover and chill in the freezer for at least 10 minutes while preparing the fillings.
In a small bowl, dissolve the gelatin in the water. Set aside to bloom.
In a large bowl, beat together the cream cheese and sugar until smooth.
Add 2½ cups (720 ml) whipping cream and beat until the batter is light and fluffy.
Warm the gelatin in the microwave for about 15 seconds so that it's fluid, and incorporate into the batter.
Divide the cheesecake batter evenly between 4 medium bowls.
In the first bowl, whisk in the vanilla extract and remaining whipping cream.
In the second bowl, whisk in ⅓ cup (80 grams) lemon curd.
In the third bowl, whisk in the dulce de leche.
In the fourth bowl, whisk in the chocolate hazelnut spread.
To assemble the cheesecake, slowly pour the contents of bowl #1 into a quarter of the pan. Repeat with remaining flavors. Use a spatula to smooth the tops.
Carefully dollop the raspberry jam in small circles on top of the vanilla cheesecake. Use a toothpick or knife to carefully swirl it into the filling. Garnish the outer border with fresh raspberries.
Garnish the outer border of the chocolate hazelnut cheesecake with the chocolate hazelnut truffles.
Garnish the outer border of the dulce de leche cheesecake with the chopped pecans and drizzle with dulce de leche
Pour the remaining lemon curd on top of the lemon cheesecake and smooth with an offset spatula or spoon. Garnish the outer border with candied lemon slices.
Cover the top of the pan tightly with plastic wrap and chill for 4 hours or overnight in the fridge before slicing and serving.
Enjoy!
Watch the recipe video here:
Dinner party pending? Impress your guests with this 4-flavour cheesecake! ?FULL RECIPE: https://tasty.co/recipe/4-flavor-cheesecake

Posted by Proper Tasty on Tuesday, March 13, 2018