Brownie Bonbon
These frozen treats feature a dark chocolate shell filled with custard, strawberries and a brownie base.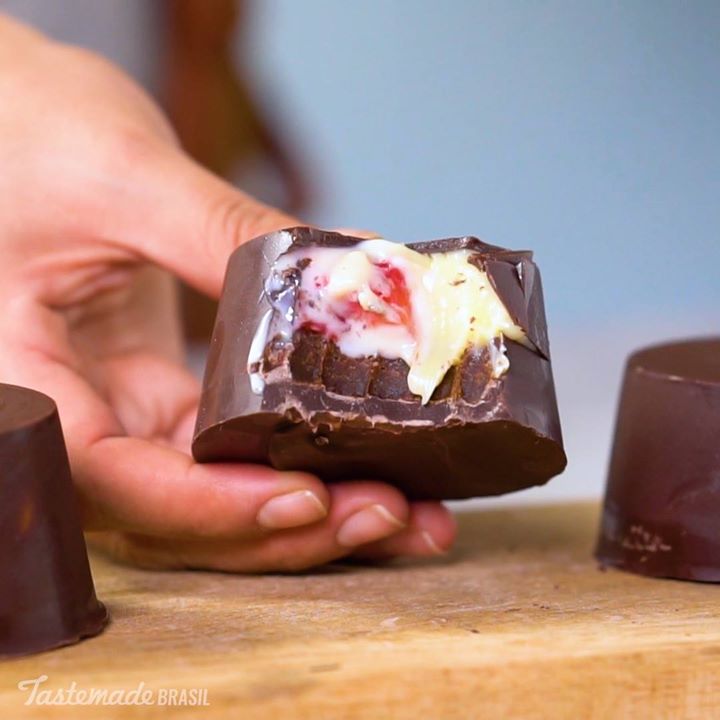 Ingredients
2 cans condensed milk
1¼ cups milk
4 egg yolks
21 ounces dark chocolate
9 ounces strawberries, chopped
12 circular brownie pieces
Instructions
In a pan, add the milk and condensed milk. Pass the egg yolks through a sieve into the mixture.
Cook over low heat, stirring continually, until a thick custard is obtained. Set aside to cool.
Melt the chocolate, and cover silicone or acetate muffin cups with a thin layer of chocolate. Set aside in the refrigerator for chocolate to harden.
Mix the strawberries with the custard and place a portion of custard in each cup. Place a brownie piece on top of the custard and finish with a layer of melted chocolate. Refrigerate for at least 30 minutes, or until the chocolate is solid.
Remove from cups and serve.
Watch the recipe video here:
I'd give up sugar, but I'm not a quitter.Full Recipe: taste.md/2EaOPxu?: Tastemade Brasil

Posted by Tastemade on Saturday, February 10, 2018