Boyfriend Steak
Is this the sexiest piece of meat you've ever seen?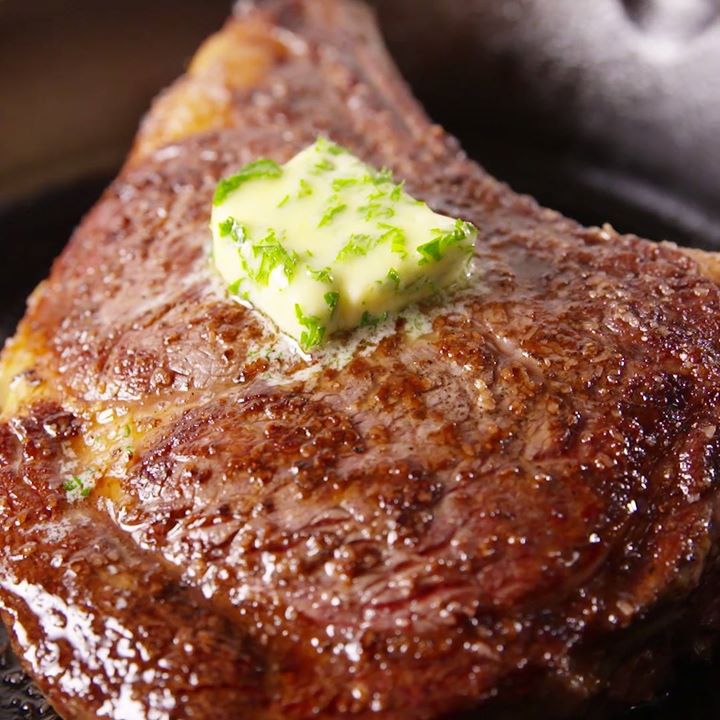 Ingredients
FOR THE HERB BUTTER
1 stick softened butter
1 tbsp. Freshly Chopped Parsley
FOR THE STEAK
1 tbsp. extra-virgin olive oil, for skillet
1 26-28 ounce bone-in ribeye or Côte de boeuf
kosher salt
Freshly ground black pepper
Instructions
Preheat oven to 350º. Make herb butter: Mix butter and parsley and shape into a log (use wax paper, if you have). Refrigerate until firm.
Make steak: Heat an oven-proof skillet over high heat and add olive oil. Season steak generously with salt and pepper.
Sear steak 3 minutes per side, then transfer skillet to oven to continue cooking, about 10 minutes for medium rare.
Transfer steak to a plate and top with herb butter.
Watch the recipe video here:
This Boyfriend Steak is the sexiest piece of meat ever.Full recipe: http://dlsh.it/71Lu57G

Posted by Delish on Saturday, February 10, 2018