Kung Pao Chicken Tacos
A kickin' chicken taco of this caliber is not to be underestimated. Sure, this is an inexpensive, family-friendly weeknight dinner… but it's a cool inexpensive, family-friendly weeknight dinner. Also, it's just a ridiculously tasty recipe. For more meals like it, grab a copy of Julie Grimes's $10 Dinners: Delicious Meals for a Family of 4 that Don't Break the Bank.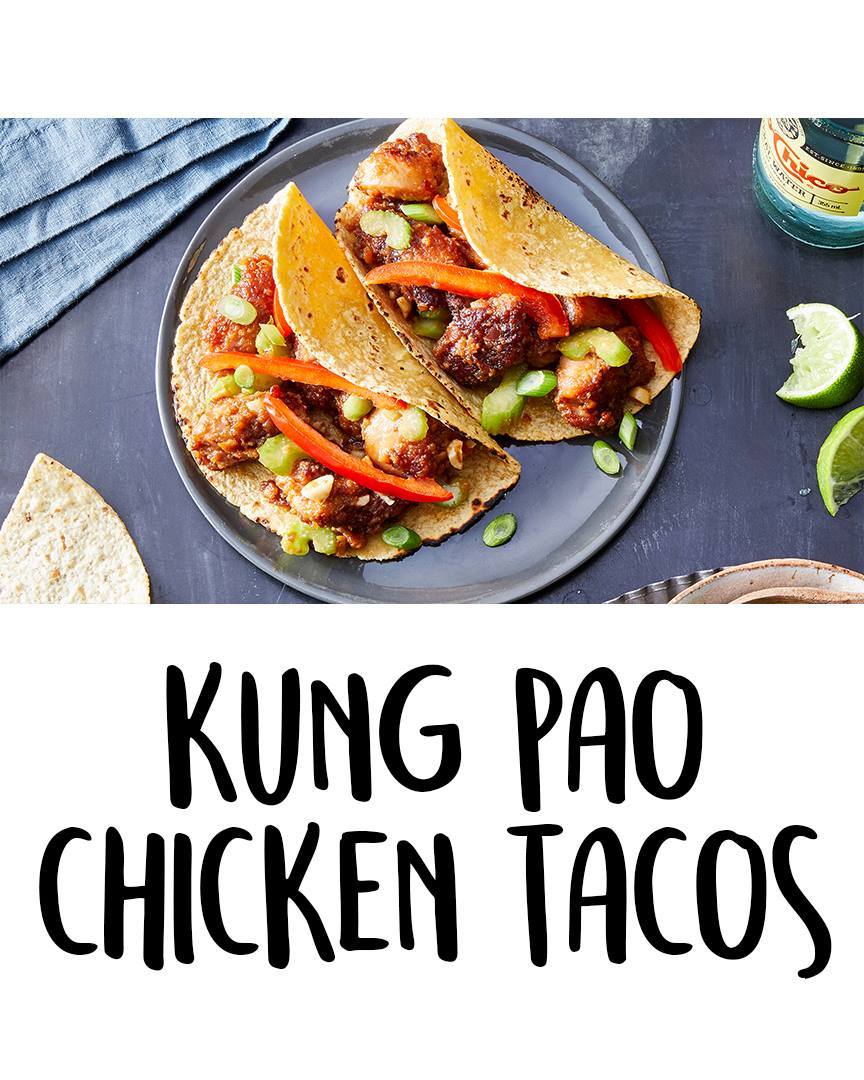 Ingredients
6 skinless, boneless chicken thighs, cut into bite-sized pieces
¼ cup lower-sodium soy sauce, divided
2 tablespoons dark sesame oil, divided
2 tablespoons honey, divided
6 tablespoons cornstarch, divided
½ teaspoon kosher salt
2 tablespoons canola oil, divided
2 teaspoons rice vinegar
1 teaspoon sambal oelek (ground fresh chile paste)
1 large garlic clove, minced
3 tablespoons coarsely chopped dry-roasted peanuts
¾ cup diagonally sliced celery (about 2 stalks)
8 (6-inch) corn tortillas
½ medium red bell pepper, thinly sliced
2 green onions, trimmed and thinly diagonally sliced
4 lime wedges
Instructions
Place chicken in a large zip-top plastic bag. Whisk together 2 Tbsp. soy sauce, 1 Tbsp. sesame oil, and 1½ tsp. honey in a small bowl. Add soy mixture to bag with chicken; seal. Marinate at room temperature for 30 minutes, turning bag over after 15 minutes. Remove chicken from bag; discard marinade.
Place ⅓ cup cornstarch in a shallow dish. Sprinkle chicken evenly with salt. Dredge chicken in cornstarch; shake off excess. Heat a large skillet over medium-high heat. Add 1 Tbsp. canola oil to pan; swirl to coat. Add half of coated chicken; sauté 6 minutes or until done, turning to brown on all sides. Remove chicken from pan using a slotted spoon; drain on paper towels. Repeat the procedure with remaining 1 Tbsp. canola oil and coated chicken.
Whisk together remaining 2 Tbsp. soy sauce and 1½ tsp. cornstarch in a large microwave safe bowl. Add 1 Tbsp. sesame oil, 1½ tsp. honey, vinegar, and sambal; whisk until well blended. Microwave at HIGH for 1½ minutes or until slightly thick, stirring twice. Stir in garlic. Add chicken, peanuts, and celery to bowl with sauce; toss.
Toast tortillas under broiler until lightly blistered or heat according to package directions. Divided chicken filling evenly among warm tortillas; top tacos with bell pepper and green onions; serve with lime wedges.
Watch the recipe video here: