Mint Chocolate Chip Cookies
Crazy addicting.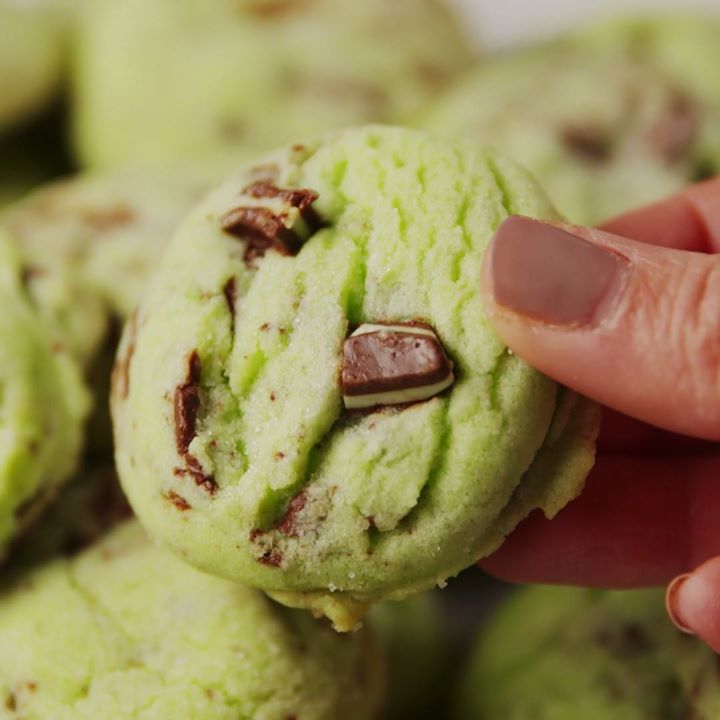 Ingredients
1 c. butter (2 sticks), softened
1 c. granulated sugar, plus more for sprinkling
1 egg
1 tsp. peppermint extract
2 c. all-purpose flour
½ tsp. baking soda
½ tsp. baking powder
¼ tsp. kosher salt
6 drops green food coloring
1 c. chopped Andes
Instructions
Preheat oven to 350° and line two large baking sheets with parchment paper. In a large bowl using a hand mixer, beat butter and sugar until the mixture is pale and fluffy. Add egg and peppermint and mix until fully combined.
Add flour, baking soda, baking powder, salt and green food coloring and mix until just combined and the dough is green to your liking. Fold in chopped Andes.
Using a small cooking scoop, from small balls and place on baking sheets about 2" apart. Sprinkle with sugar.
Bake until the cookies are puffed and set, 10 to 12 minutes.
Let cool for 10 minutes on baking sheet then transfer to a wire rack to cool completely.
Watch the recipe video here:
These Mint Chip Cookies are like Andes Mints on crack. Full recipe: http://dlsh.it/5IrBBLA

Posted by Delish on Monday, December 18, 2017