Oreo Cheesecake
Two of your favorite desserts combine in this decadent white chocolate Oreo cheesecake. Top it off with bits of candy for an added crunch!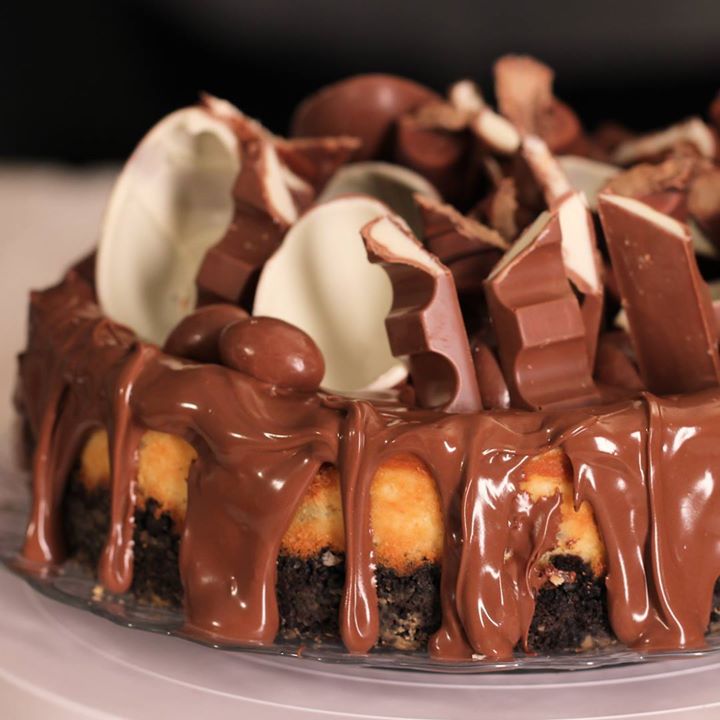 Ingredients
1 (14-ounce package) Oreos, crushed
½ cup unsalted butter, melted
¾ cup sugar
3 cups cream cheese
½ cup heavy cream
3 eggs
1 teaspoon vanilla extract
10½ ounces white chocolate, melted
8 to 10 Oreos, broken in pieces
1 cup Nutella or chocolate sauce
Chocolate candies, to garnish
Instructions
Preheat oven to 350 degrees.
In a mixing bowl, combine the crushed Oreos and melted butter. Press firmly into the bottom of a springform pan. Bake for 15 minutes. Remove crust and reduce heat to 325 degrees.
In a large bowl, add the sugar, cream cheese and heavy cream. Beat with an electric mixer. Add the eggs, vanilla extract and melted white chocolate and continue to mix. Stir in the broken Oreos. Pour filling on top of Oreo crust. Bake for 60 minutes, until edges begin to turn golden.
Allow cake to cool in the oven with the oven door open, then cool at room temperature for at least 4 hours. Remove from pan and top with chocolate sauce and chocolate candies.
Watch the recipe video here:
This cake is so extra, & we're loving it.Taste for Yourself: taste.md/2J7L1A2?: @Tastemade France

Posted by Tastemade on Friday, April 20, 2018