Giant Buffalo Chicken Kebab
Buffalo chicken - that rich, vinegary spice is one of those classic points on the American culinary map. Normally liberally applied to deep fried chicken wings, this divine condiment is just at home on a towering, juicy, charred stack of chicken breast. Easy to make and even easier to eat, this is truly a stunning centrepiece for your next party.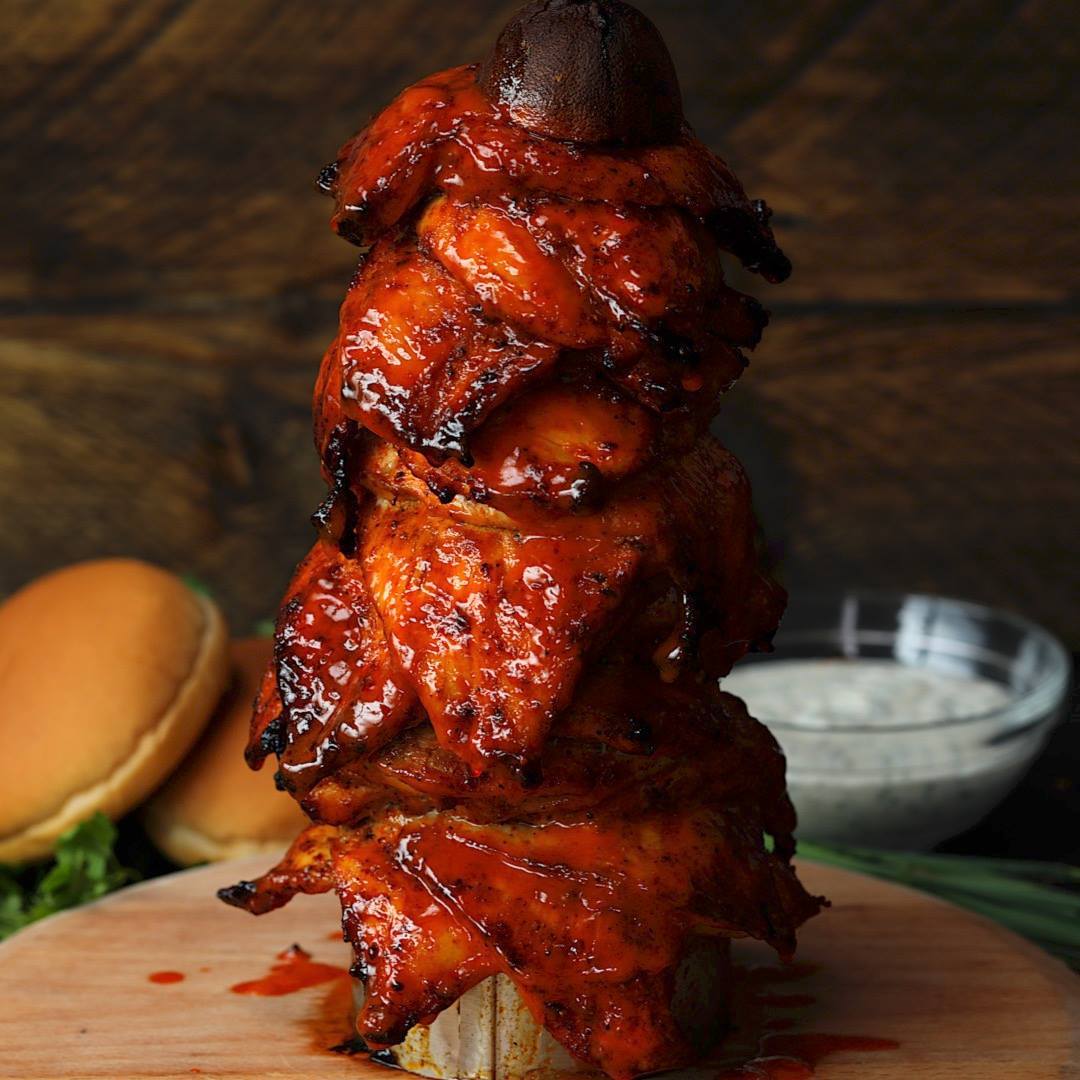 Ingredients
10 chicken breasts
2 tbsp paprika
1 tbsp garlic powder
1 tbsp onion powder
1 tsp salt
1 tsp ground black pepper
3 tbsp groundnut oil
1 large onion
Buffalo sauce
250ml cayenne hot sauce
125g soft butter
3 tbsp honey
Ranch
200g mayo
50ml buttermilk
1 clove garlic
2 tbsp chopped chives
2 tbsp chopped parsley
1 tsp salt
1 tsp pepper
Instructions
Butterfly the chicken breasts with a sharp knife.
Whisk together the paprika, garlic powder, onion powder and seasoning. Add the chicken breasts and coat thoroughly. Leave to marinate for an hour or so.
Preheat the oven to 180°C/360°F.
Get the sharp stick and stick it into half an onion to make a base. If you have a cookie cutter of a similar size to the onion then stick it round it to support it - these kebabs have a tendency to fall over.
Roast the kebab, turning frequently, for roughly an hour, until a temperature probe inserted into the thickest part of the kebab registers 71°C/142°F.
Meanwhile, in a pan whisk together the hot sauce, butter and honey. Bring to a gentle simmer and take off the heat, allowing to cool.
Take the kebab out of the oven towards the end of cooking and paint it all over with the buffalo sauce. Add back for a final five minutes.
Meanwhile, make a simple ranch - whisk mayo, buttermilk, chopped parsley, chopped chives, crushed garlic, salt and pepper.
With a sharp knife cut slices from the kebab. Serve in burger buns with the ranch and drizzles of more buffalo sauce.
Watch the recipe video here:
Giant Buffalo Chicken Kebab

Posted by Twisted on Thursday, June 21, 2018