Nacho Fried Chicken Dippers
These chicken tortillas are cheesy, crunchy, and delicious. Serve them up with this queso dip for the best pairing ever!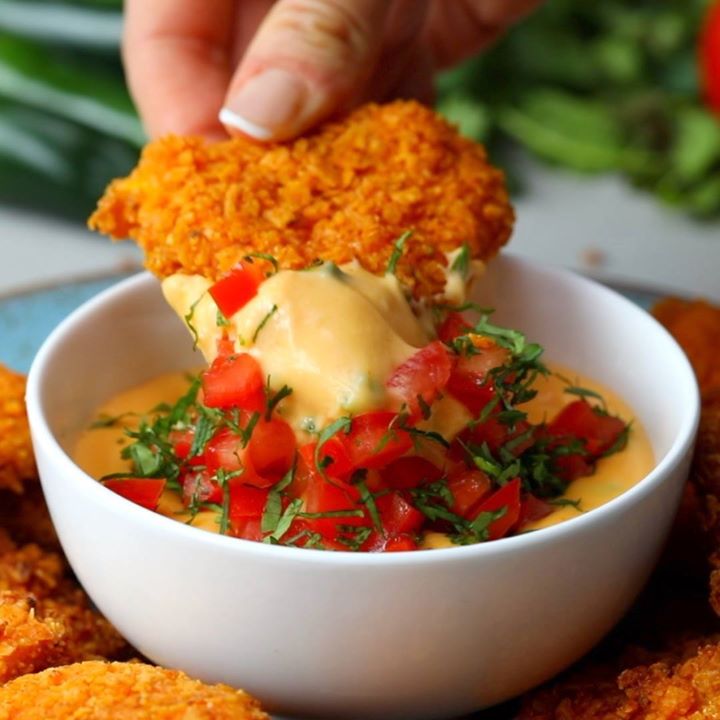 Ingredients
3 chicken breasts, butterflied
1 cup seasoned flour
3 eggs, whisked
2 bags cheese tortilla chips crushed
1 can evaporated milk
2 cups grated cheddar cheese
2 tbsp corn starch
2 tbsp hot sauce
2 jalapeños, seeded and diced
Chopped tomatoes
Chopped coriander
Oil for frying
Instructions
Cut butterflied breasts into triangles. Coat each in flour, then egg, then crushed chips. Repeat into egg then chips.
Heat about ½ inch oil in a cast iron pan to 180ºC. Shallow fry each of the chicken pieces until golden on both sides. Keep warm.
In a large pot, heat evaporated milk, mix cheese and cornstarch together and add to milk. Mix, stirring until thickened. Stir in hot sauce and jalapeños. Pour into a bowl. Top with tomatoes and chopped coriander.
Serve chicken along side dip, enjoy!
Watch the recipe video here:
Nacho Fried Chicken Dippers

Posted by Twisted on Friday, April 13, 2018