Layered Berry Scones
Hurry, before these delightful drizzled desserts are scone. They're berry good!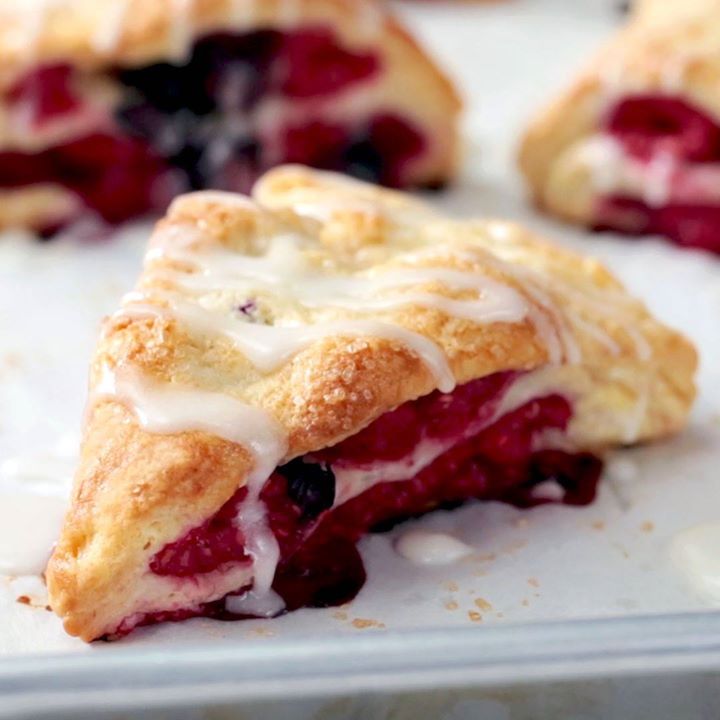 Ingredients
Scones:
2 cups all-purpose flour
1 tablespoon baking powder
½ teaspoon salt
2 tablespoons sugar
6 tablespoons unsalted butter, cold, cut into cubes
1 cup heavy cream, plus 1 tablespoon for brushing
1½ cups blueberries
1½ cups raspberries
2 tablespoons muscovado sugar
Icing:
1 cup powdered sugar
2 to 3 tablespoons milk
½ teaspoon vanilla
Instructions
For the scones:
Preheat oven to 400 degrees.
In a mixing bowl, add flour, baking powder, salt and sugar. Using a pastry blender or a fork, cut the butter into the flour until you have coarse crumbs. Add heavy cream and gently fold together.
Turn dough out onto a lightly floured surface. Using a rolling pin, roll dough into a large rectangle. Add half of the berries in the center of the dough. Fold one half of the dough over, add remaining berries and fold to cover berries. Lightly press on dough to seal it shut.
Cut dough into 6 even triangles. Brush with heavy cream and sprinkle with sugar. Bake 20 to 25 minutes or until golden brown.
For the icing:
Add powdered sugar to a small bowl. Slowly add milk and whisk until smooth. Stir in vanilla. Using a spoon, drizzle warm scones with icing.
Watch the recipe video here:
These pastries will be scone before you know it.Taste for Yourself: taste.md/2HCGYtR

Posted by Tastemade on Friday, April 13, 2018