Jalapeño Popper Hasselback Chicken
Jalapenos are without a doubt a Mexican icon up there with sombreros and Frida Kahlo. These smooth, glossy torpedoes of joy are ubiquitous not only south of the border but north too, peppering Tex-Mex cuisine with their distinctive mellow heat and dark green hue. Combined with chicken, bucketloads of cheese and that classic prerequisite for a good time, double cream, you are onto a winner.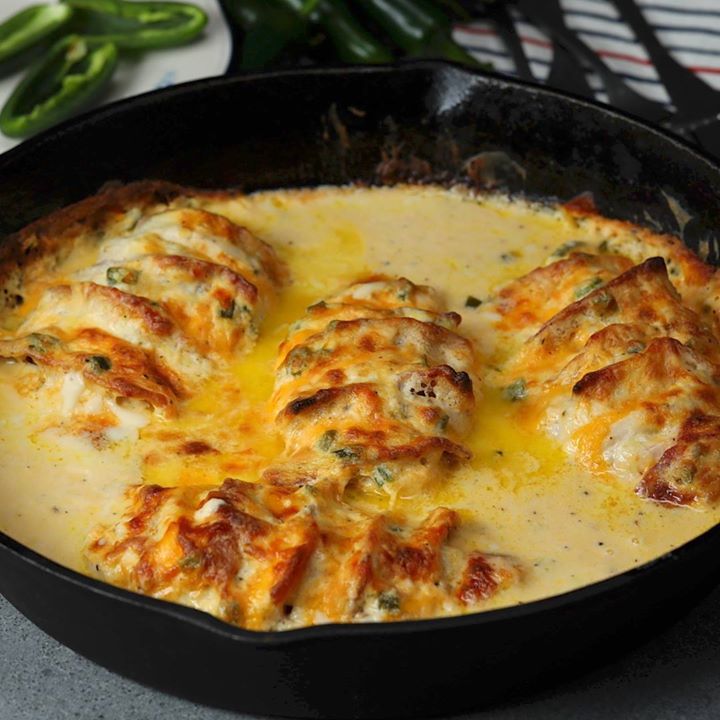 Ingredients
1 cup cream cheese
6 Jalapeno peppers
2 cups mixed mozzarella & cheddar
1 tbsp salt
1 tbsp pepper
¾ cup double cream
4 chicken breasts
Sliced cheddar cheese
Thinly cut bacon, cooked until crisp and cut into narrow strips
Salt
Pepper
Instructions
In a large bowl mix together the cream cheese, jalapenos, two cheeses, salt, pepper and cream. Set aside.
Cut parallel slices down the length of each chicken breast then lay them in a greased skillet and insert alternate slices of cheese and bacon into each.
Season then spoon over dollops of the cheesy popper mixture. Bake for around 40 - 50 minutes until the sauce is bubbling and the chicken has cooked through.
Serve with salad to offset all that dairy.
Watch the recipe video here: