Fajita Shrimp Pasta
Creamy pasta, sweet prawns - such things as dreams are made of. Throw in a few fajita spices and you've got a luxurious midweek pasta to serve your happy family, friends or co works.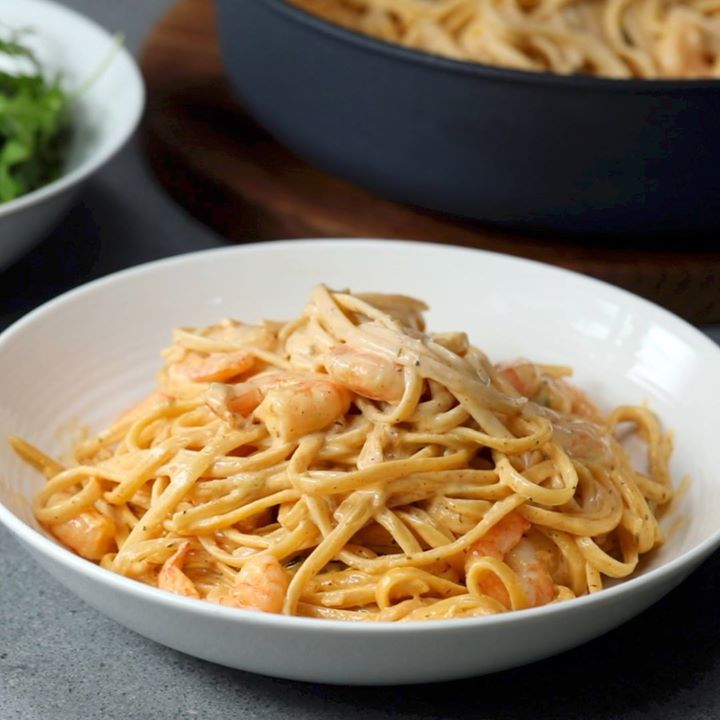 Ingredients
2 tbsp butter
1 kg raw king prawns
1 tbsp oil
1 tbsp butter
2 green peppers, thinly sliced
1 onion, sliced
3 cloves garlic, finely diced
1 tbsp salt
1 tsp black pepper
1 tbsp oregano
1 tsp cayenne pepper
1 tsp paprika
3 cups double cream
2 cups parmesan
4 servings worth linguine, cooked to packet instruction
Instructions
In a heavy bottomed, deep sided frying pan heat the butter until foaming and sautee the prawns, turning frequently, until pink. Remove from the heat and wipe the pan.
Add the oil and butter and fry the peppers and onions until soft, then add the garlic and cook for a further minute.
Add the spices and stir thoroughly before pouring over the cream. Give everything another stir and allow the cream to reduce for around 30 minutes, stirring occasionally - make sure the cream doesn't boil.
Stir in the parmesan and add the prawns back in, then stir in the pasta and stir.
Watch the recipe video here:
Fajita Shrimp Pasta

Posted by Twisted on Saturday, April 14, 2018