Virgin Islands Pates
Have you ever heard of the Virgin Islands? Try Shanique's home recipe for one of their signature dishes! ?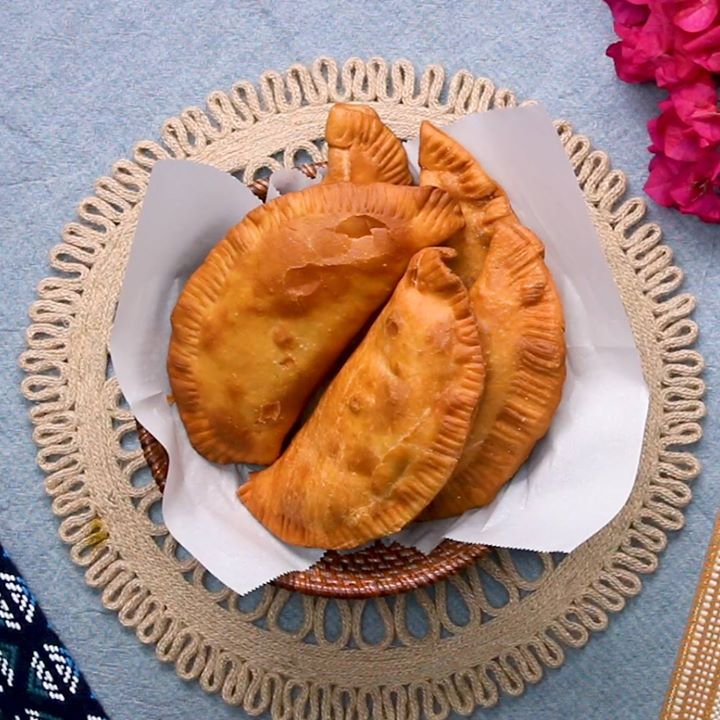 Ingredients
4 cups (500 g) flour
2 teaspoons salt
2 teaspoons sugar
2 teaspoons baking powder
½ cup (100 g) shortening, cold
1 cup (240 mL) cold water, plus 2 tablespoons, divided
1 onion, chopped
1 bell pepper, chopped
1 stalk celery, chopped
5 cloves garlic, minced
salt, to taste
pepper, to taste
1 teaspoon dried oregano
1 teaspoon dried parsley
1 teaspoon dried thyme
2 tablespoons tomato paste
½ scotch bonnet pepper, minced
1 lb (455 g) lean ground beef
4 cups (1 L) oil, for frying
Instructions
In a large bowl, mix together the flour, salt, baking powder, and sugar.
Add the cold shortening and water, and mix until evenly incorporated, but still crumbly.
Transfer the dough onto a work surface and knead until the dough just comes together, about 1 minute.
Wrap the dough in plastic wrap, and let it rest for an hour at room temperature.
Heat a skillet on medium high with 2 tablespoons of olive oil.
Add the onion, bell peppers, celery, garlic, salt, pepper, dried oregano, dried parsley, dried thyme, and the scotch bonnet pepper, and cook until all the vegetables are soft and slightly caramelized, about 10 minutes.
Add the tomato paste and cook until aromatic and slightly caramelized, about 5 minutes.
Add the ground beef. Cook until the meat is browned, about 15 minutes. Remove from the heat and set aside.
Unwrap the rested dough and roll it out on a work surface until ⅛ of an inch (3 mm) in thickness. Using an inverted 6-inch (15-cm) wide bowl, cut out circles of the dough to set aside. Remove the excess and re-roll it to cut out more dough circles.
Take a dough circle and place ½ cup (110 G) of filling into the center of the circle, leaving about 1½ inches (3-cm) of room around the edges.
Dip your finger in water and brush the edge of the dough. Fold the dough over the filling to meet the opposite end and press the dough ends together to form a half-moon shape. Firmly press down the two edges to become one, and decorate the new crust with the prongs of a fork. Make sure the pastry is completely sealed.
Preheat fryer oil in a large pot on high heat to 350°F (180°C).
Place the pates into the heated deep fryer, one at a time, for about 5 minutes or until they puff up and the outside turns golden brown. Remove from the fryer and let them drain on a wire rack or paper towel-lined plate.
Enjoy!
Watch the recipe video here:
Have you ever heard of the Virgin Islands? Try Shanique's home recipe for one of their signature dishes! ?GET THE FAMILY RECIPE: https://tasty.co/recipe/virgin-islands-pates

Posted by Tasty on Wednesday, February 21, 2018