Deep Dish Pizza Bread Bowl, the Easiest Pizza You'll Ever Make!
Deep dish pizza is not the easiest way to make pizza but can be extremely delicious. I had to figure out a way to make one at home but on the other hand be super easy and I think I figured it out! Pizza dough from scratch, no thank you. I don't have the time or the know how to do it. Instead grab a large french bowl and hollow it out. Now it's as simple as filing your giant deep dish crust with all your favorite pizza toppings! But in this case pizza Fillings!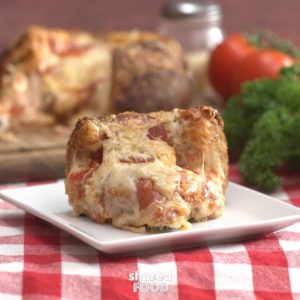 Ingredients
3 cups mozzarella cheese (grated)
½ cup pepperoni
1 cups canned plum tomatoes, drained well
1 teaspoon oregano
2 garlic cloves, peeled and crushed
½ cup grated parmesan cheese, for topping
3 tablespoons olive oil
Instructions
Preheat oven to 350.
Slice top off of bread and remove most of the insides.
Layer ¼ of the cheese on the bottom of bread bowl and a pinch of oregano, then a single layer of pepperoni, then ⅔ cup crushed tomatoes and garlic. Repeat 3 times with mozzarella being the top layer.
Sprinkle with parmesan and drizzle with olive oil, wrap in tinfoil.
Bake for 30 minutes, remove tin foil and bake for an additional 20-30 minutes.
Cool for 10 minutes, slice and serve.
Watch the recipe video here: