French Dip Sliders
Don't be fooled by their size, these little guys pack major flavor.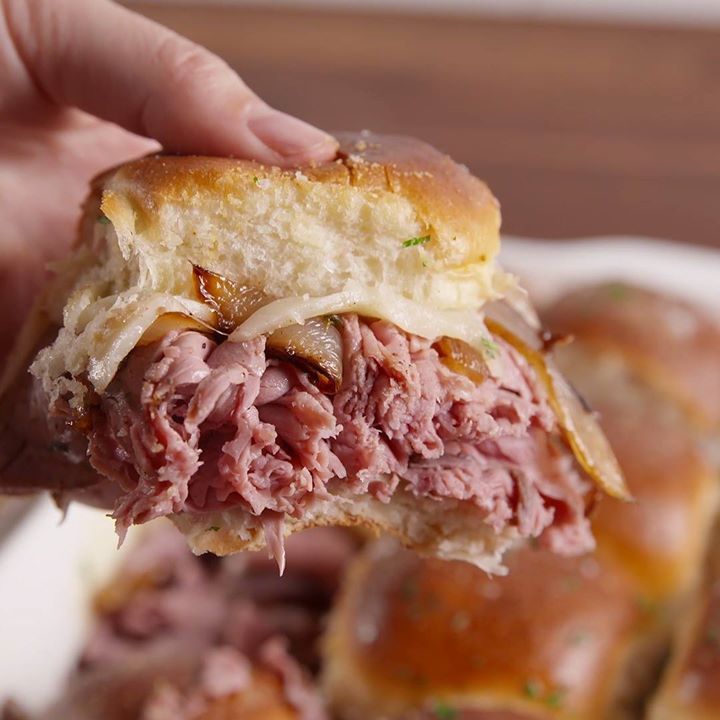 Ingredients
12 slider buns, halved
2 large onions, thinly sliced
¼ tsp. garlic powder
2 sprigs thyme
kosher salt
Freshly ground black pepper
1 lb. deli roast beef
12 slices provolone cheese
2 tbsp. unsalted butter, melted
coarse sea salt
1 tbsp. finely chopped parsley
AU JUS
1 tbsp. unsalted butter
1 Garlic clove, minced
1½ c. beef stock
1 tbsp. Worcestershire sauce
¼ tsp. thyme leaves
Instructions
Preheat oven to 350°. Place bottom halves of the slider buns in a large baking sheet.
Melt butter in a large skillet over medium-high heat. Stir in onion and thyme sprigs. Cook, stirring occasionally, until the onions begin to soften and turn slightly golden, about 5 minutes. Season with salt and pepper and reduce heat to medium. Continue cooking, stirring occasionally, until the onions are soft and caramelized, about 10 to 15 minutes more. Remove from heat.
Build the sliders. Top the slider buns with roast beef and cheese, then cover with caramelized onions. Place the remaining halves of the slider buns on top. Brush the tops of the slider buns with melted butter. Sprinkle with garlic powder, sea salt and parsley. Bake until the cheese is melted and the sandwiches are warmed through,10 to 15 minutes.
Meanwhile, make au jus. Melt butter in a medium skillet over medium heat. Stir in garlic and cook until fragrant, about 1 minute. Add beef stock, worcestershire sauce and thyme. Season with salt and pepper. Simmer for 10 minutes or until reduced slightly.
Serve sliders warm with au jus for dipping.
Watch the recipe video here:
How To Make French Dip Sliders

These French Dip Sliders will have all of your friends double-dipping.Full recipe: http://dlsh.it/qqLLgXR

Posted by Delish on Thursday, January 11, 2018