Peach Cobbler Stuffed 'Beignets'
Peach Cobbler Stuffed 'Beignets'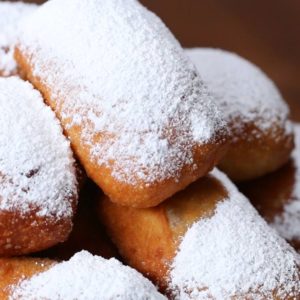 Ingredients
2 tablespoons unsalted butter
1 lb jar peaches, chopped (455 g)
⅓ cup brown sugar (75 g)
½ teaspoon cinnamon
1 tablespoon all-purpose flour, plus additional for dusting
¼ teaspoon nutmeg
2 lb pizza dough (905 g)
oil, for frying
½ cup powdered sugar (60 g)
Instructions
Add the butter and peaches to a pan over medium-low heat and cook until the butter has melted and peaches are glossy.
In a small bowl mix together the brown sugar, cinnamon, 1 tablespoon flour, and nutmeg. Sprinkle the sugar mixture over the peaches. Mix to combine and stir for 5-10 minutes until the mixture starts to thicken. Remove from heat and set aside to cool.
On a floured surface, roll out the pizza dough to ¼-inch (6-mm) thick. Cut the dough into 20 rectangles.
Spoon 1 tablespoon of the peach filling onto a cut piece of dough. Fold the dough over lengthwise and crimp the edges so the filling is well sealed. Repeat with remaining dough and filling.
Heat oil in a large pot to 350°F (180°C).
Working in batches, fry beignets for 3-4 minutes each, flipping halfway, until puffy and golden brown.
Transfer beignets to a paper towel-lined plate or wired rack to drain.
Dust with powdered sugar.
Enjoy!
Watch the recipe video here:
Here's a short-cut with how to make the most amazing peach cobbler beignets ?FULL RECIPE: https://tasty.co/recipe/peach-cobbler-stuffed-beignets

Posted by Tasty on Saturday, April 13, 2019