Strawberry Cheesecake Muffins
A dessert-type muffin that disappears in minutes.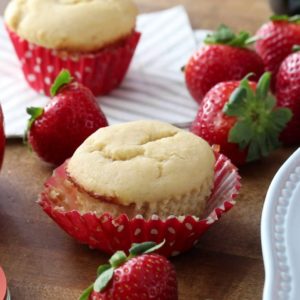 Ingredients
½ (8 ounce) package cream cheese, softened
¼ cup confectioners' sugar
2½ cups all-purpose flour
1 tablespoon baking powder
½ teaspoon salt
1 egg
1¼ cups milk
½ cup brown sugar
⅓ cup butter, melted
1 teaspoon grated lemon zest
¼ teaspoon vanilla extract
¼ cup strawberry jam
Instructions
Preheat oven to 375 degrees F (190 degrees C). Grease 12 muffin cups or line with paper muffin liners.
Beat together cream cheese and confectioners' sugar until smooth; set aside.
In a large mixing bowl, combine all-purpose flour, baking powder and salt. In a separate bowl, beat together egg, milk, brown sugar, butter, lemon zest and vanilla extract. Stir egg mixture into dry ingredients, stirring just until moistened.
Spoon half of batter into muffin cups. Top each portion with 1 tablespoon cream cheese mixture and 1 teaspoon jam. Spoon remaining muffin batter on top.
Bake in preheated oven for 20 minutes, or until golden. Cool in pan for 5 minutes, then remove muffins and cool on rack. Store in airtight container.
Watch the recipe video here: