Chocolate Cinnamon Pull-Apart Muffins
Not sure about you, but frosted cinnamon roll pull-apart muffins pretty much check all the breakfast boxes for us.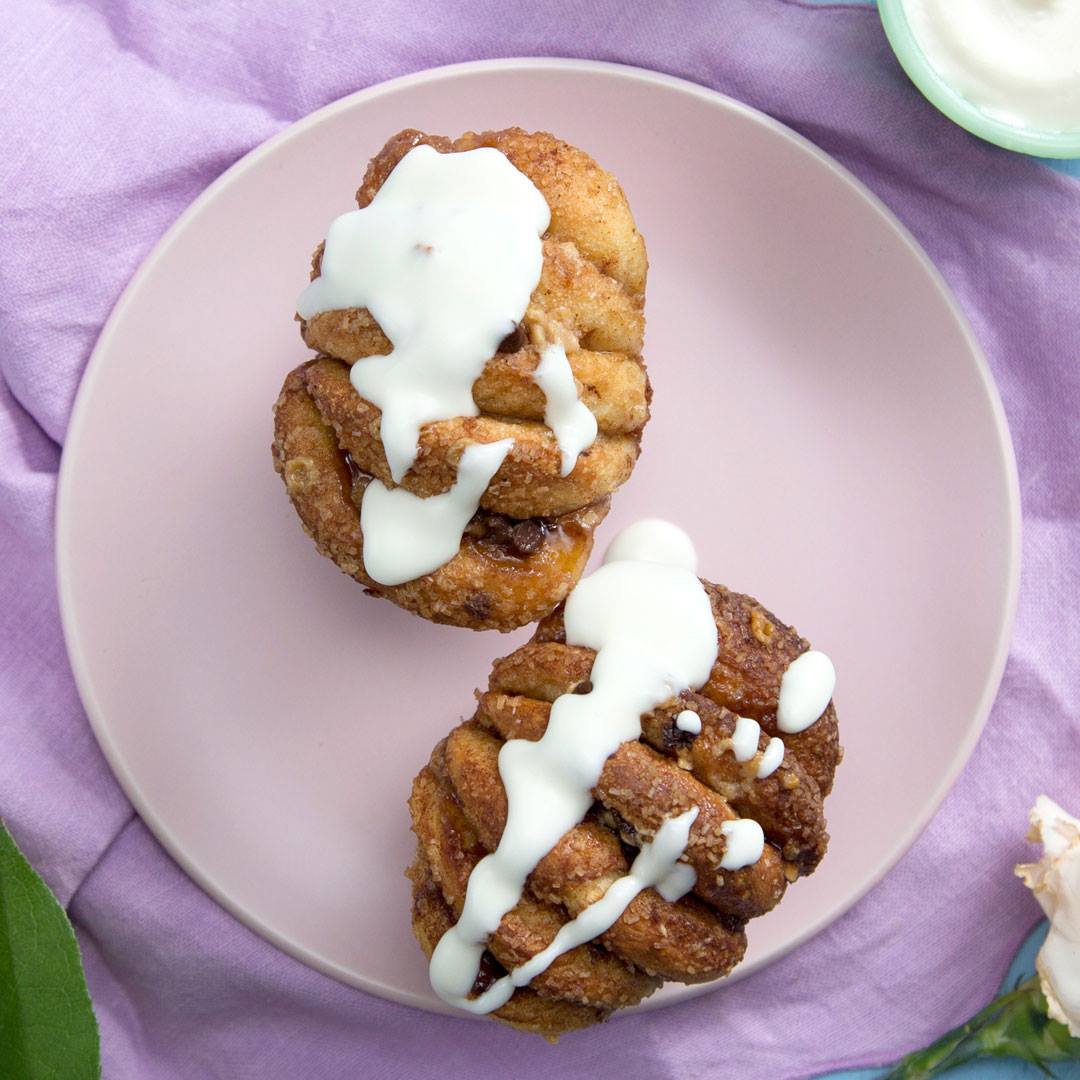 Ingredients
¼ cup unsalted butter
½ cup turbinado sugar
1 ½ teaspoons ground cinnamon
2 (11 oz) cans refrigerated french bread dough
⅓ cup mini chocolate chips
⅓ cup toffee bits
For the Cream Cheese Frosting:
4 tablespoons unsalted butter, melted
1 ½ cups powdered sugar
¼ cup cream cheese, room temperature
1 teaspoon vanilla extract
2 tablespoons whole milk
⅛ teaspoon kosher salt
Instructions
Preheat oven to 350 degrees and grease a muffin tin with cooking spray.
In a small non-stick skillet, brown the butter over medium heat for about 5 minutes until fragrant and golden. Set aside to cool.
In a shallow bowl combine the sugar and cinnamon and set aside.
Using a sharp knife, cut the logs of dough in half and then cut each half into 16, ½ inch slices.
Place each of the slices in between two large sheets of wax paper and flatten with a rolling pin. Using a pastry brush, brush each disc of dough with the browned butter. Dip buttered slices into the cinnamon sugar mixture.
Stack 5 to 6 pieces of dough on top of each other sprinkling each slice with about a ¼ teaspoon of chocolate chips and toffee bits. Place the stack sideways into one of the muffin cups. Repeat with remaining dough slices until 6 of the muffin tins are filled.
Bake muffins for 25-30 minutes or until golden brown and puffed.
Meanwhile prepare the cream cheese frosting. In a medium size bowl, using a hand-mixer on a low speed, beat together the butter, powdered sugar, cream cheese, vanilla, milk and salt until smooth.
Once the muffins have cooled in the pan for 5 to10 minutes, remove from the pan and drizzle with cream cheese frosting before serving.
Watch the recipe video here:
Chocolate Cinnamon Pull-Apart Muffins

Not sure about you, but frosted cinnamon roll pull-apart muffins pretty much check all the breakfast boxes for us.Taste for Yourself: taste.md/2xMszFU

Posted by Tastemade on Tuesday, May 29, 2018