Watermelon Sangria
This is one of my favorite recipes I have borrowed from a friend. If you love watermelon, this is the perfect drink for a hot summer day!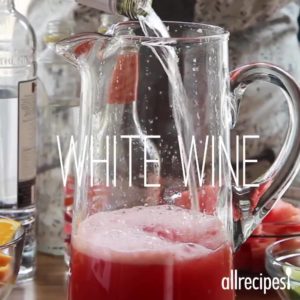 Ingredients
12 cups cubed watermelon, divided
1 (750 milliliter) bottle dry white wine
1 cup vodka
½ cup triple sec
½ cup simple syrup
1 medium lime, quartered
1 orange, cut into wedges
1 cup fresh blueberries
Instructions
Place 9 cups of watermelon cubes in a blender; blend on high until very smooth. Strain juice through a mesh strainer into a large pitcher. Pour the wine, vodka, triple sec, and simple syrup into the pitcher. Stir to combine. Mix the remaining 3 cups of watermelon cubes, the lime quarters, orange sections, and blueberries into the sangria. Chill for 4 hours before serving.
Watch the recipe video here: