Baked Avocado Tacos
Baked Avocado Tacos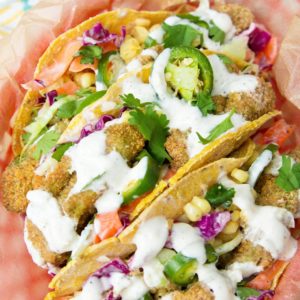 Ingredients
½ cup wheat flour (60 g)
½ teaspoon salt
¼ teaspoon pepper
2 large eggs
1 ½ cups whole wheat bread crumb (170 g)
½ teaspoon paprika
½ teaspoon garlic powder
½ teaspoon cumin
2 avocados
¾ cup plain yogurt (185 g)
¾ teaspoon salt
½ teaspoon pepper
3 cloves fresh garlic, finely minced
1 lime, juiced
½ cup green cabbage, finely sliced (50 g)
½ cup red cabbage, finely sliced (50 g)
½ cup shredded carrot (55 g)
1 pack corn tortilla
Instructions
Add the flour, salt, and pepper to a bowl and whisk to combine.
In a separate bowl, crack the eggs and whisk.
In a third bowl, add the bread crumbs, garlic powder, cumin, and paprika, and whisk to combine.
Halve the avocados, cutting from the stem to the base.
Preheat an oven to 350°F (180°C)
Remove and discard the pits. Cut each half into ½ inch (1 ¼ cm) wide slices then remove and discard the skin.
Working with one avocado slice at a time, dip in the flour mixture, then egg, and finally bread crumbs, making sure each are fully coated.
Place the avocado slices 1-inch (2 ½ cm) apart on a parchment paper-lined baking sheet.
Transfer the baking sheet to the oven and bake for 10 minutes. Flip the avocados and continue baking until golden brown, 10 to 15 more minutes.
In a medium bowl, mix together the yogurt, salt, pepper, garlic, and lime juice. Cover and refrigerate until you're ready to serve.
Add the red and green cabbage and the carrots to a large bowl, then stir in half of the yogurt sauce until well combined.
Remove the baking sheet from the oven and let the avocado slices cool 2 to 3 minutes before serving.
Place three avocado slices on a single tortilla and top with slaw and toppings of your choice.
Enjoy!
Watch the recipe video here:
These baked avocado tacos because they're gonna change your life! ?FULL RECIPE: https://tasty.co/recipe/baked-avocado-tacos

Posted by Proper Tasty on Tuesday, June 25, 2019