Mozzarella Stick Waffles
Imagine mozzarella sticks but with crispy waffled nooks and crannies.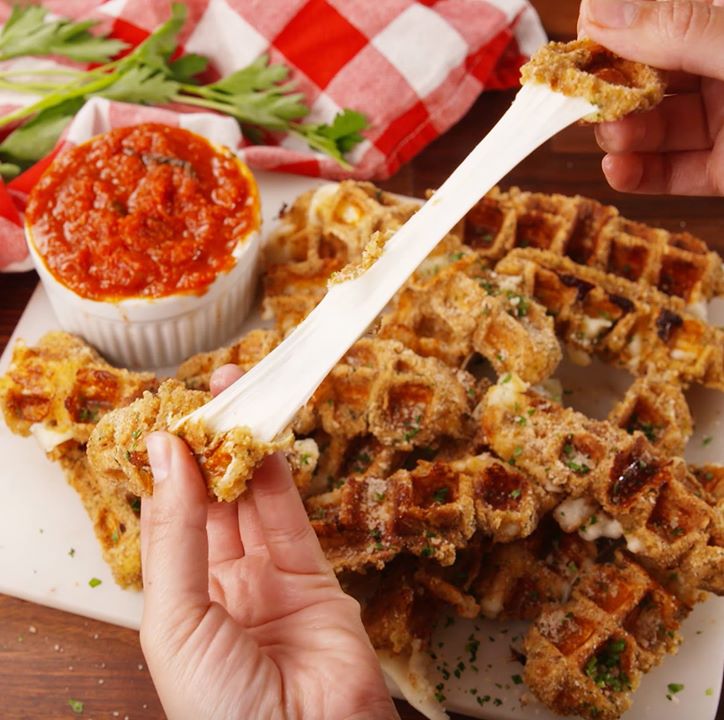 Ingredients
1 c. all-purpose flour
2 large eggs, lightly beaten
2 tbsp. milk (or water)
1 c. Italian bread crumbs
kosher salt
16 mozzarella sticks (preferably low-moisture)
Chopped fresh parsley, for garnish
Marinara, warmed, for serving
Instructions
Preheat waffle maker to medium heat. Set up a dredging station: Add flour to a shallow bowl. In a separate shallow bowl, whisk together eggs and milk. In a third shallow bowl, season bread crumbs with salt. Toss mozzarella sticks in flour, toss in egg mixture until fully coated, then toss in bread crumbs.
Spray waffle iron with nonstick cooking spray. Place coated mozzarella sticks sided by side in the hot waffle iron. Cover and cook until golden, about 4 minutes.
Carefully remove from waffle using tongs or a fork, then cut waffles into strips. Garnish with parsley, and serve with marinara sauce for dipping.
Watch the recipe video here: