Sloppy Joe Cheesesteak Hasselback Potatoes
Sloppy Joe Cheesesteak Hasselback Potatoes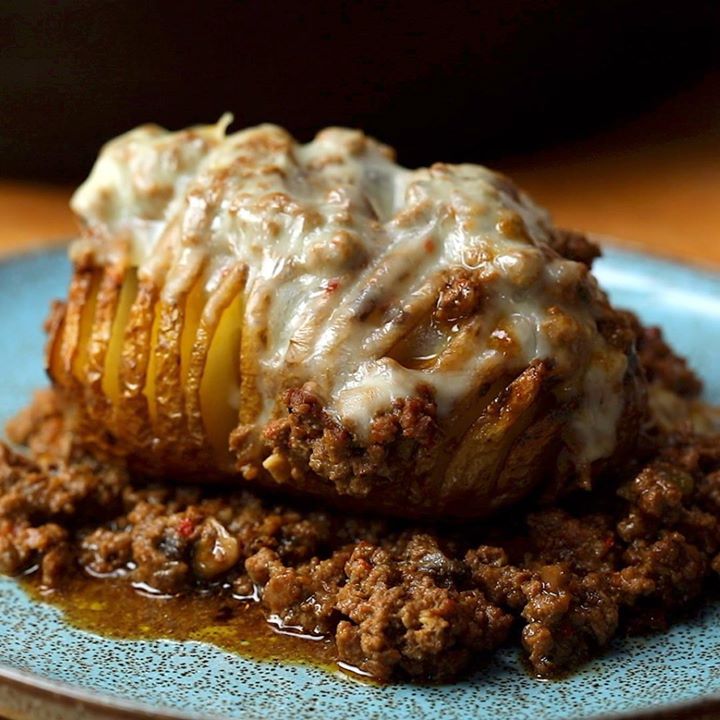 Ingredients
6 large potatoes
½ cup olive oil
600g beef mince
3 mixed peppers, diced
1 large onion, diced
3 cloves garlic, chopped
3 tbsp olive oil
salt and pepper
1 cup mushrooms, diced
2 cups beef stock
1 cup whole milk
2 tbsp worcestershire sauce
sliced provolone
Instructions
Slice each of your potatoes at ½cm intervals almost down to the base of the potato. Dunk each in the olive oil, attempting to get as much of the oil in the gaps as possible. Pop into a skillet and season well with salt and pepper. Bake at 180°C for 1hr 20 mins.
Meanwhile, make your sauce. Heat the olive oil over medium-high heat. Fry the beef mince, breaking it up with your hands as you go, in two batches, then set aside and drain any excess oil from the pan (leaving about 2 tbsp). Into the same pan, add your peppers, onions and mushrooms along with a good pinch of salt. Fry for 10 minutes or so, stirring frequently, until nicely caramelised and delicious. Return the beef to the pan and add the worcestershire sauce, beef stock, milk and another pinch of salt and pepper. Bring to a simmer, then reduce the heat to low, partially cover the pan with a lid and cook for 1-2 hours, or until the beef is soft. and the sauce has reduced.
Spoon the beef mix over the potatoes and lay down the sliced provolone.
Bake for 5-10 minutes, or until melted, oozy and awesome.
Enjoy!
Watch the recipe video here: