Loaded Queso In A Tortilla Bowl
Loaded Queso In A Tortilla Bowl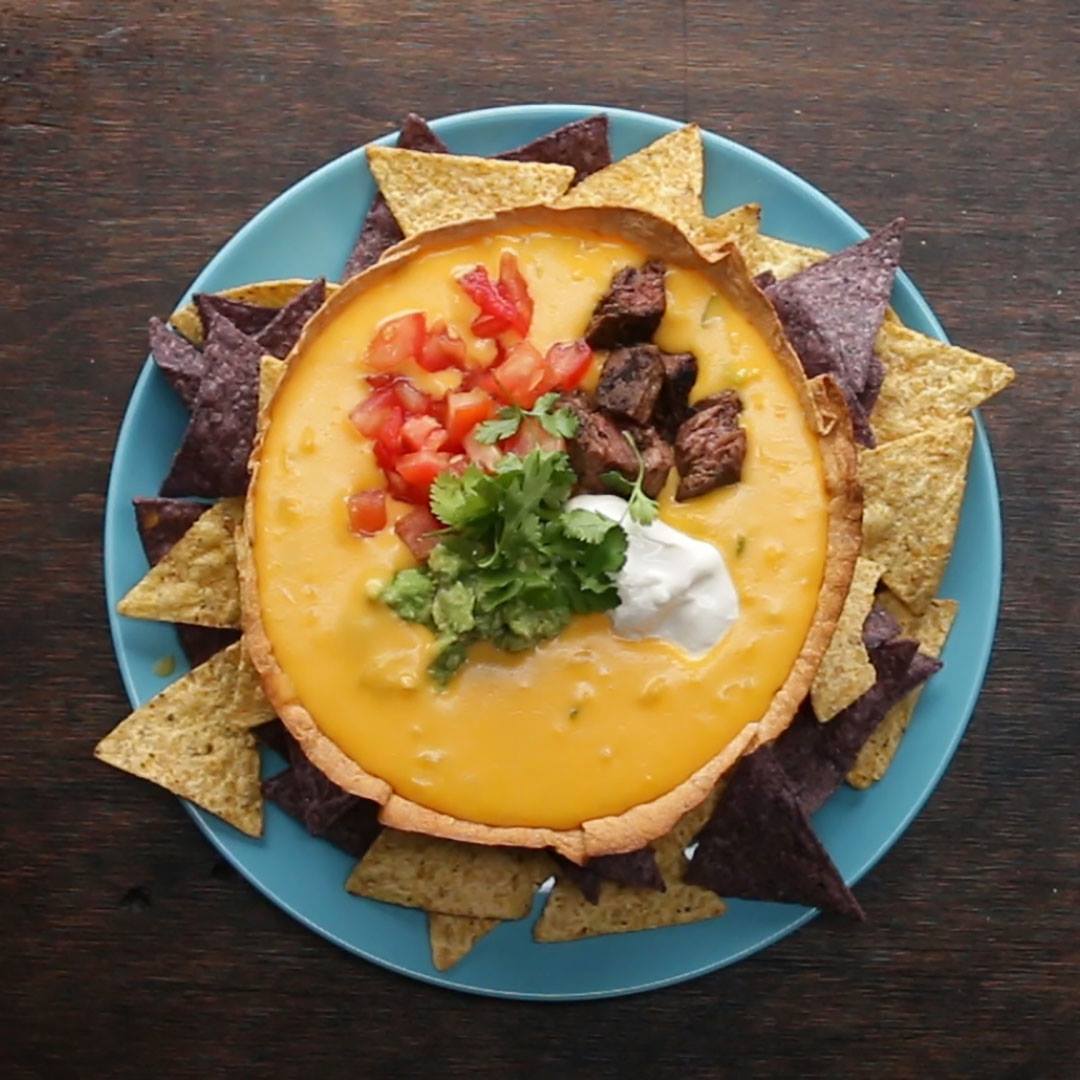 Ingredients
1 flour tortilla
¼ cup (60 mL) olive oil
1 lime, juiced
1 tablespoon cumin
1 tablespoon paprika
1 teaspoon garlic powder
1 teaspoon chili powder
1 teaspoon salt
1 lb (455 g) flank steak
1 tablespoon olive oil
2 tablespoons butter
½ onion, diced
2 jalapeñoes, seeded and diced
2 cloves garlic, minced
2 tablespoons flour
1 cup (240 mL) milk
4 cups (400 g) cheddar cheese
guacamole, to serve
tomato, diced, to serve
sour cream, to serve
fresh cilantro, to serve
tortilla chips, to serve
Instructions
Preheat an oven to 400˚F (200˚C).
Place a flour tortilla over an oven-safe bowl. Place another oven-safe bowl over it. Bake for 15 minutes. Remove the bowls and set the tortilla bowl aside.
In a shallow container, place olive oil, lime juice, cumin, paprika, garlic powder chili powder and salt. Mix well.
Place the flank steak in the spice mixture, rubbing until fully coated. Marinate for 1 hour in the refrigerator.
Heat a cast iron pan or stainless steel pan over high heat. Coat with olive oil and Add the steak and sear for 6-8 minutes.
Rest the meat for 5 minutes. Cut them into a bite size. Set aside.
In a medium size saucepan, melt the butter. Add the onion and cook until translucent, about 4-5 minutes.
Add the jalapeños and cook for 3 minutes. Add garlic and cook for 1 minute.
Sprinkle in the flour, and cook for 3 minutes, stirring constantly. Add milk and cook until the mixture has thickened, about 3-4 minutes.
Add the cheddar cheese ½ cup (50 g) at a time. Stir constantly until the cheese is completely melted.
On a flat plate, spread tortilla chips. Place the tortilla bowl on top. Pour in the queso and top with chopped steak, chopped tomatoes, guacamole, sour cream and cilantro.
Enjoy!
Watch the recipe video here:
Goodbye nachos, hello queso tortilla bowl! ?FULL RECIPE: https://tasty.co/recipe/loaded-queso-in-a-tortilla-bowl

Posted by Tasty on Wednesday, July 18, 2018