Tuscan Chicken Pasta
This delicious, indulgent yet healthy pasta makes the perfect bite-sized snack. Crispy, herby chicken mixed with vibrant peppers and spinach gives you everything you could want for a balanced portion, while elegantly creamy The Laughing Cow Light gives that little bit of extra luxury. Either enjoy this at home or bring with you on a summery picnic to serve up with friends.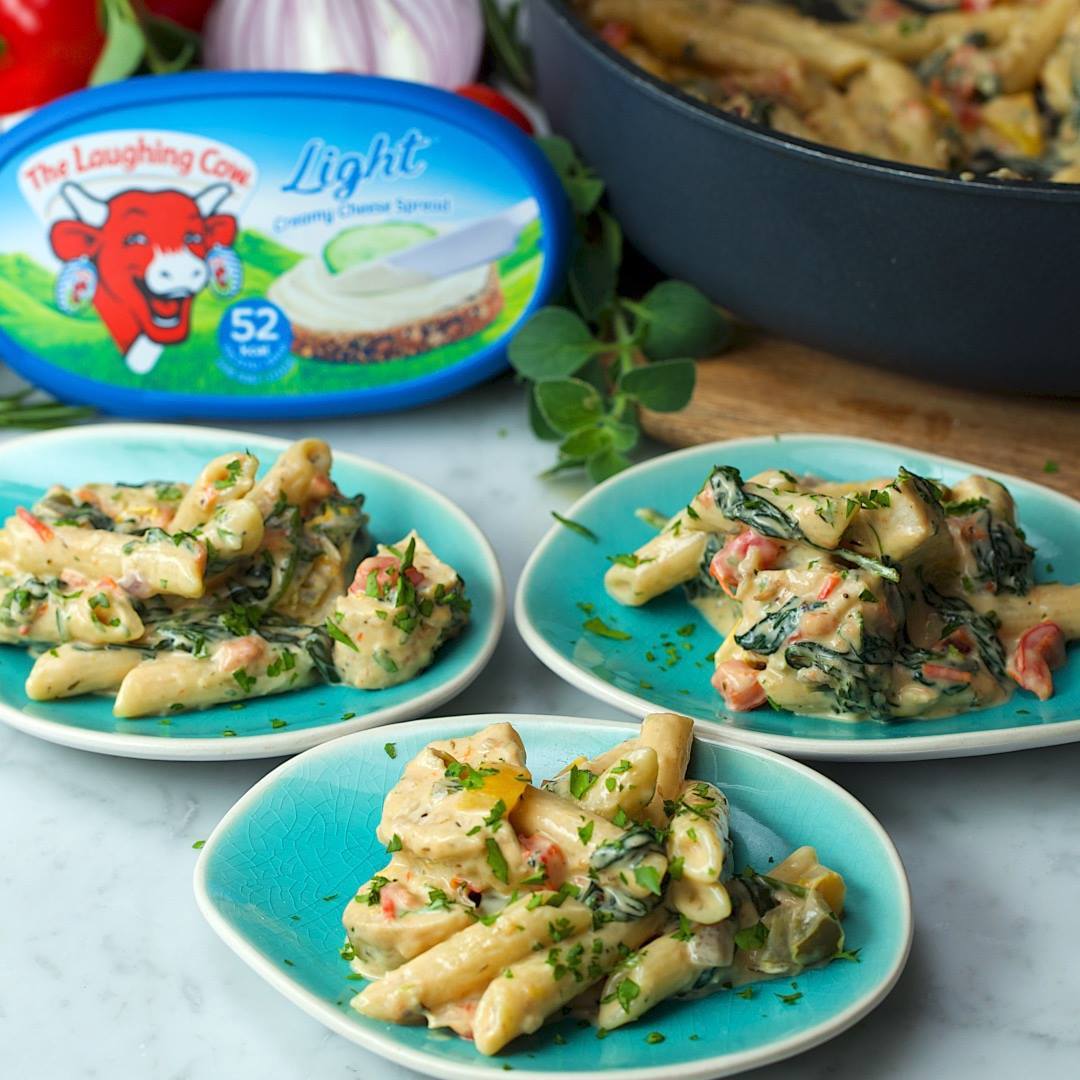 Ingredients
3 chicken breasts
1 tbsp Italian herb seasoning
1 tsp sea salt
1 tbsp olive oil
3 mixed peppers, sliced
1 red onion, sliced
2 cloves garlic, finely diced
3 chopped plum tomatoes
2 tubs The Laughing Cow Light
100ml double cream
1 bag baby spinach
Salt and pepper
1 packet penne pasta, cooked
Instructions
Preheat the oven to 180°C.
Add the chicken to a bowl and sprinkle with the Italian seasoning, sea salt and olive oil.
Heat a large, deep, heavy-bottomed frying pan and brown the chicken, roughly 4 - 5 minutes on both sides. Remove from the heat and place in the oven on a tray for a further 5 minutes to cook through. Chop the chicken into pieces and set aside.
Add a splash more oil into the pan and add the sliced peppers and onions. Fry, stirring every now and then, until they've softened.
Add the diced garlic and fry until fragrant, then add the tomatoes and cook until slightly broken down. Spoon in The Laughing Cow and stir in the double cream, then bring to a gentle simmer and add the spinach to wilt. Season to taste.
Add the pasta and stir to combine.
Sprinkle with parsley and serve.
Watch the recipe video here:
Tuscan Chicken Pasta

Posted by Twisted on Wednesday, July 18, 2018