One-Pot Basil Pasta
One-Pot Basil Pasta recipe.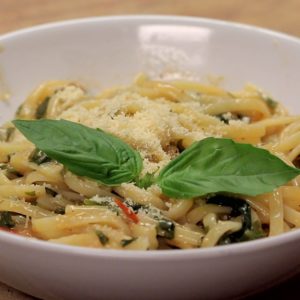 Ingredients
¼ onion, finely chopped
2 cloves garlic, crushed
½ cup baby plum tomato, halved or regular tomatoes chopped into small bits (100 g)
⅓ cup fresh basil, chopped, plus a few sprigs to decorate (15 g)
⅓ cup fresh parsley, chopped (15 g)
5 oz linguine, or spaghetti (150 g)
salt, to taste
pepper, to taste
1 pinch crushed chillies
2 tablespoons olive oil
2 ½ cups cold water (600 mL)
parmesan cheese, to garnish
Instructions
Place all of the ingredients except for the parmesan into a large pot. Cook on a high heat for 2 minutes, submerging the spaghetti into the water once it's softened enough.
Lower the temperature to a medium/low heat and toss and stir continuously until the liquid reduces down into a thick sauce. serve with more fresh basil and top with parmesan.
Enjoy!
Watch the recipe video here: