Creamy Honey Mustard Skillet Chicken
Honey, mustard & chicken. This holy trinity is truly divine - sweet from the honey yet hot from the mustard, all of the best flavours in one smooth package. Add some salt from the bacon, a bit of fragrance from the thyme and a moderate amount of cream and you've got the world's easiest yet delicious midweek supper.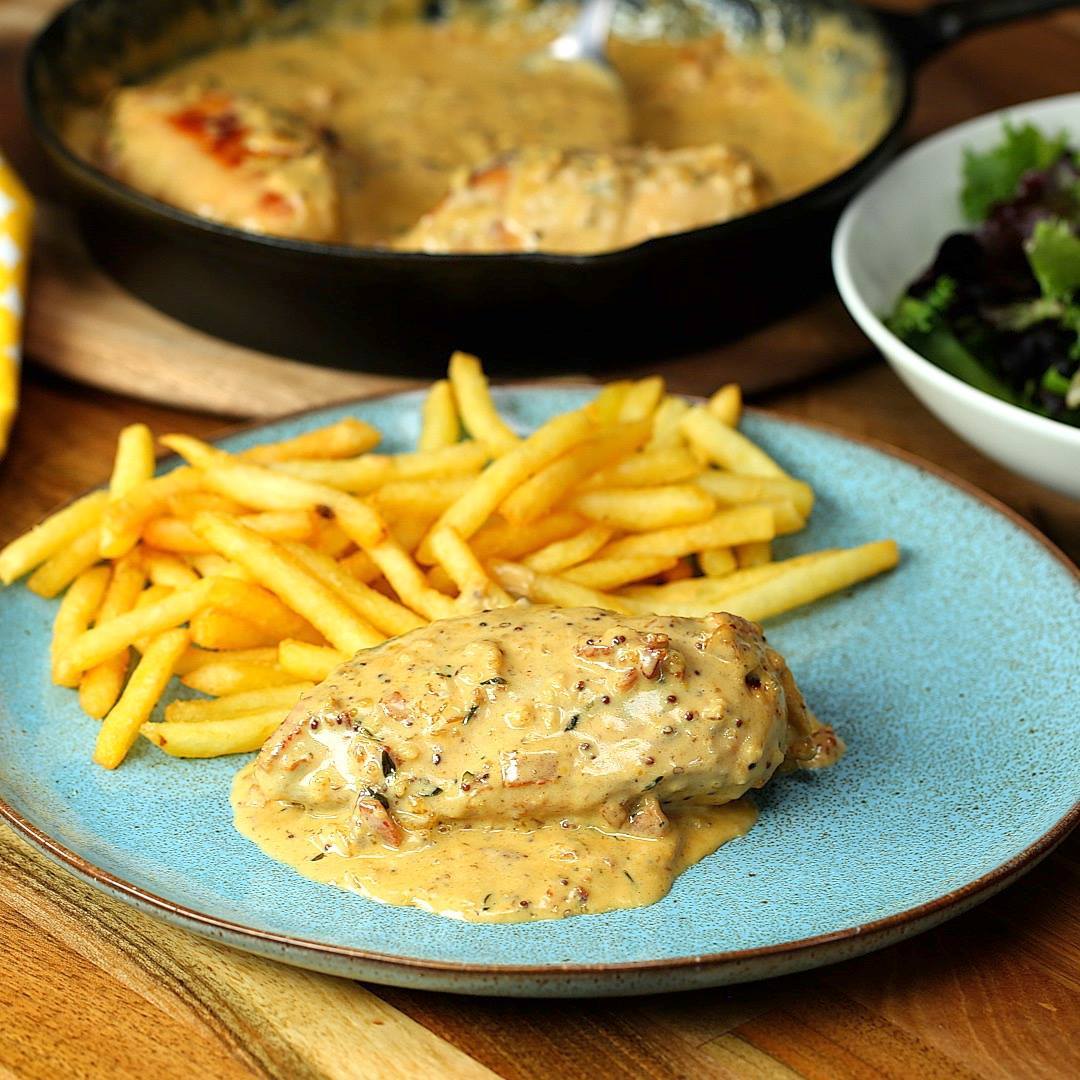 Ingredients
100g honey
4 tbsp wholegrain mustard
3 tbsp olive oil
1 tsp salt
1 tsp black pepper
3 large chicken breasts
1 tsp olive oil
6 rashers streaky bacon, diced
3 cloves garlic, crushed
300ml double cream
A pinch of salt
2 tbsp thyme leaves
1 tsp corn flour
2 tbsp water
Fries, for serving
Instructions
Whisk together the honey, mustard, olive oil, salt & pepper.
Add the chicken breasts and turn them to coat them in the honey - mustard mixture.
In a medium skillet heat a little oil gently - the honey can burn quite easily so the aim of the game is just to sear the chicken slightly then remove them from the heat. Don't worry if they aren't cooked through as they will come up to temperature in the sauce later on.
Clean the pan and add the bacon with a little oil. Fry until golden and crisp, then add the garlic and continue to fry for a further minute or so, until fragrant. Pour over the cream and stir to combine, then add the thyme. Mix together the cornflour and water and add this to the mix, then bring to a gentle simmer. Add the chicken breasts and continue to cook for a further 5 minutes, until they are completely cooked through and the sauce has thickened. Turn them over a few times to coat them in the sauce.
Serve with chips. Delicious!
Watch the recipe video here: