Coconut Bread Pudding
The classic bread pudding is enhanced with coconut flakes and coconut milk.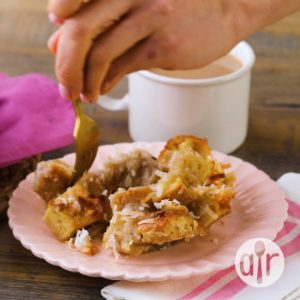 Ingredients
2 tablespoons butter
⅓ cup confectioners' sugar
1 cup white sugar
4 eggs
1 egg yolk
2 (14 ounce) cans coconut milk
1 teaspoon ground cinnamon
¼ teaspoon ground nutmeg
¼ teaspoon salt
2 tablespoons coconut extract
1½ cups flaked coconut, divided
½ cup fresh coconut
1 (1 pound) loaf French bread, cut into 1 inch cubes
Instructions
Preheat oven to 325 degrees F (165 degrees C). Grease a 9x13 inch baking dish with butter, and dust with confectioners' sugar.
In a large bowl, combine sugar, eggs, egg yolk, coconut milk, cinnamon, nutmeg, salt and coconut extract. Mix until smooth. Stir in 1 cup of flaked coconut, and ½ cup fresh coconut. Fold in bread cubes until evenly coated. Pour into prepared baking dish. Set aside for 30 minutes.
Bake on a cookie sheet in preheated oven for 25 minutes. Sprinkle top with remaining ½ cup flaked coconut. Continue baking for 25 to 30 minutes, or until center springs back when lightly tapped.
Watch the recipe video here: