CHICKEN MARSALA MEATBALLS
These Chicken Marsala Meatballs are a fun twist in the classic dish! Great served over butternut squash or egg noodles.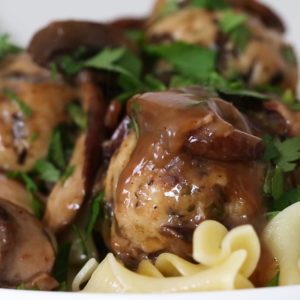 Ingredients
8 ounces sliced cremini mushrooms, divided
1 pound 93% lean ground chicken
⅓ cup whole wheat seasoned or gluten-free bread crumbs
¼ cup grated Pecorino cheese
1 large egg, beaten
3 garlic cloves, minced
2 tablespoons chopped fresh parsley, plus more for garnish
1 teaspoon Kosher salt
Freshly ground black pepper
½ tablespoon all-purpose flour
½ tablespoon unsalted butter
¼ cup finely chopped shallots
3 ounces sliced shiitake mushrooms
⅓ cup Marsala wine
¾ cup reduced sodium chicken broth
Instructions
Preheat the oven to 400F.
Finely chop half of the Cremini mushrooms and transfer to a medium bowl with the ground chicken, breadcrumbs, Pecorino, egg, 1 clove of the minced garlic, parsley, 1 teaspoon kosher salt and black pepper, to taste.
Gently shape into 25 small meatballs, bake 15 to 18 minutes, until golden.
In a small bowl whisk the flour with the Marsala wine and broth.
Heat a large skillet on medium heat.
Add the butter, garlic and shallots and cook until soft and golden, about 2 minutes.
Add the mushrooms, season with ⅛ teaspoon salt and a pinch of black pepper, and cook, stirring occasionally, until golden, about 5 minutes.
Return the meatballs to the pot, pour the Marsala wine mixture over the meatballs, cover and cook 10 minutes.
Garnish with parsley.
Watch the recipe video here: