Philly Cheesesteak Strata
Philly Cheesesteak Strata recipe.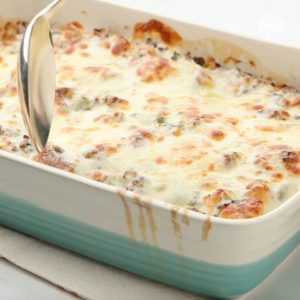 Ingredients
One 20-ounce bag hoagie rolls
One 9-ounce package frozen steak slices, such as Steak-umms, thawed
2 tablespoons olive oil
1 large yellow onion, chopped
2 medium green bell peppers, cored, seeded and chopped
One 8-ounce container fresh sliced mushrooms
Kosher salt and freshly ground black pepper
One 15-ounce jar processed cheese sauce
6 large eggs
1½ cups half-and-half
12 slices provolone
Instructions
Preheat the oven to 350 degrees F.
Tear the hoagie rolls into medium bite-sized pieces and spread on a baking sheet. Toast in the oven until dried out, 10 to 15 minutes.
Brown the steak slices in the oil, breaking up into pieces with a wooden spoon, in a cast-iron or nonstick skillet over medium-high heat. Remove from the skillet and drain all but 1 tablespoon of fat. Cook the onion, peppers, mushrooms, a pinch of salt and some pepper, stirring occasionally, until soft and translucent, 4 to 5 minutes. Add the steak back to the pan, stir well, turn off the heat and set aside.
Microwave the cheese sauce in 30-second intervals, stirring after each, until pourable. Pour into a large bowl with the eggs and half-and-half and whisk to combine well.
Place a layer of dried bread in a deep 9-by-13-inch casserole dish. Add a layer of steak and peppers, then ladle the cheese custard over until just covered. Repeat until all the ingredients are used. Bake the strata until just set, 30 to 35 minutes.
Preheat the broiler to low. Layer the provolone across the top of the pan, overlapping as necessary. Broil until the cheese topping is brown and bubbly, 5 to 10 minutes. Let the strata sit for 10 minutes to set before serving.
Watch the recipe video here:
Philly cheesesteak for breakfast? Yes, please! (Amazing, Allison Robicelli!)Save the recipe: https://foodtv.com/2YS3XKB!

Posted by Food Network on Tuesday, July 9, 2019