Air-Fried Jalapeño Poppers
The air-fryer jalapeño poppers allow you to enjoy everything you love about crispy pepper poppers without all of the not-so-lovable mess that comes with deep-frying.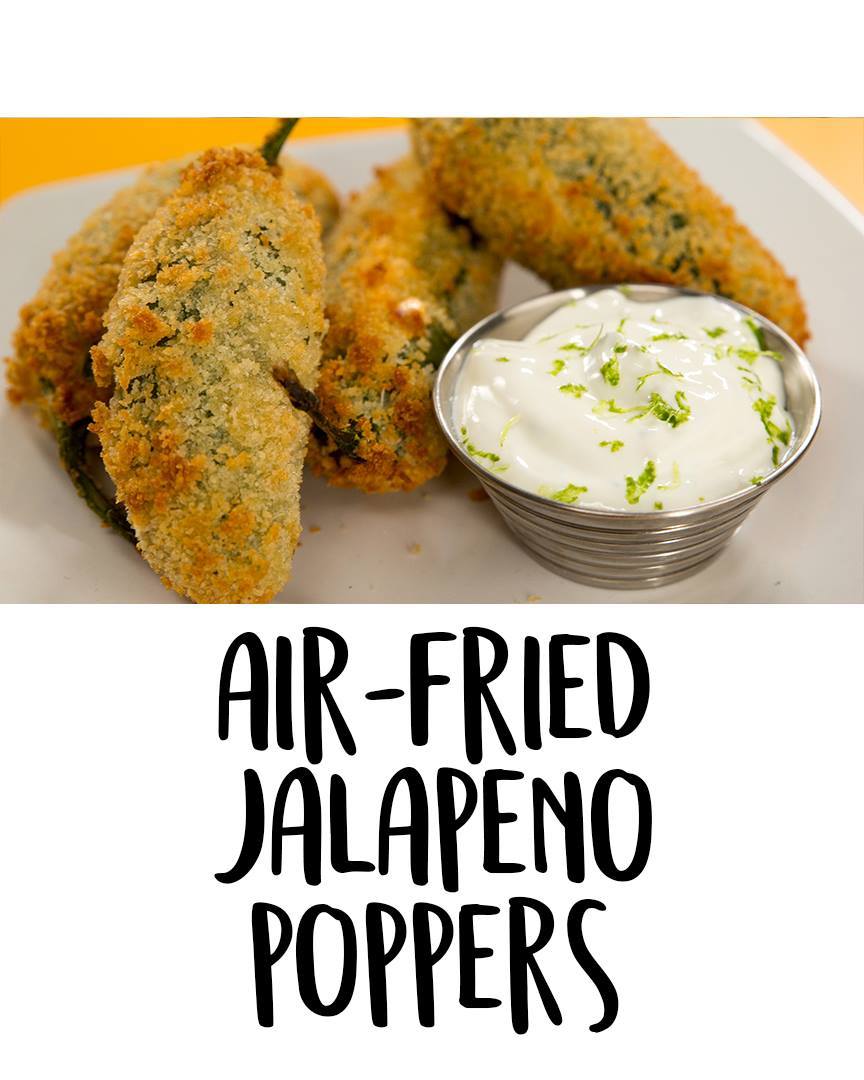 Ingredients
8 large jalapeño chiles
6 ounces Cheddar cheese, shredded (about 1½ cups)
4 ounces cream cheese, softened
1½ teaspoons kosher salt, divided
½ cup all-purpose flour
2 large eggs, beaten
1½ cups panko (Japanese-style breadcrumbs), very finely crushed
½ cup sour cream
½ teaspoon lime zest, plus 2 tsp. fresh lime juice (from 1 lime)
Instructions
Bring 3 cups of water to a boil in a medium saucepan over high. Add jalapeños; cook, stirring occasionally for 3 minutes. Transfer jalapeños to a bowl of ice water to stop the cooking process; let stand for about 30 seconds. Transfer jalapeños to a plate lined with paper towels. Carefully make a slit vertically along the side of each jalapeño. Remove seeds and veins (gloves are best for this!). Rinse and dry thoroughly.
Stir together Cheddar, cream cheese, and ½ teaspoon of the salt in a medium bowl until combined. Fill each pepper with about 2 teaspoons of cheese filling; close slit to seal in cheese.
Place flour in 1 shallow dish, eggs in a second shallow dish, and panko and remaining 1 teaspoon salt in a third dish. Dip stuffed jalapeños in eggs, allowing excess to drip off. Coat lightly in flour. Return coated jalapeños to egg dish for a second dip, and finally coat in panko.
Turn the air-fryer to 375°F, and allow it to preheat 3 to 5 minutes. Coat the basket and breaded jalapeños with cooking spray. Add 4 jalapeños at a time to air-fryer. Cook until golden brown, 10 to 12 minutes, turning half way through. Repeat with remaining jalapeños.
Combine sour cream, lime zest, and lime juice in a small bowl. Serve poppers with lime cream.
Watch the recipe video here: