Jalapeno Popper Chicken Swirl Pie
JALAPENO POPPER CHICKEN SWIRL PIE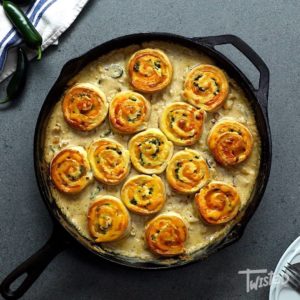 Ingredients
2 tsp oil
4 chicken breasts
Salt and Pepper to taste
1 tsp oil
1 small white onion, chopped
8 rashers bacon, chopped
2 cloves garlic, minced
6 jalapeños, sliced into rings
40g butter
40g flour
500ml chicken stock
225ml heavy cream
100g cream cheese
Salt and pepper to taste
300g self-raising flour
1 tsp salt
50g, butter grated
180ml whole milk
1 cup grated red cheddar
2-3 tbsp diced jalapeños
Egg wash
Instructions
Heat oil in a large skillet over medium heat. Add the chicken breasts, seasoning on both sides. Sear on both sides and cook through. Remove to a dish and shred. Set aside while making the sauce.
In the same pan, add 1 tsp oil, onion and bacon. Cook until onions are caramelised and bacon is just crispy.
Add garlic and jalapeños. Cook until aromatic.
Make the roux, add the butter and melt. Sprinkle over the flour and stir to combine. Gradually add the chicken stock, stirring in between until smooth. Stir in the heavy cream.
Add the cream cheese and mix until melted. Bring to a simmer and cover. Simmer for about 5 minutes then add the shredded chicken. Stir and set aside.
Pre-heat oven to 180ºC.
In a large bowl, mix together flour and butter. Until small pebbles are formed. Add the milk and mix well. Transfer to a floured surface and knead until smooth.
Roll out into a large rectangle.
Sprinkle cheese over the dough leaving about ½ bare edge to seal. Sprinkle with jalapeños. Brush the bare edge with egg wash.
Roll into a tight log. Cut into ½" spirals. Arrange on top of the chicken skillet.
Bake for about 20 minutes until golden brown.
Enjoy!
Watch the recipe video here: