BLT Cups
Why isn't everything in a bacon cup?! 😫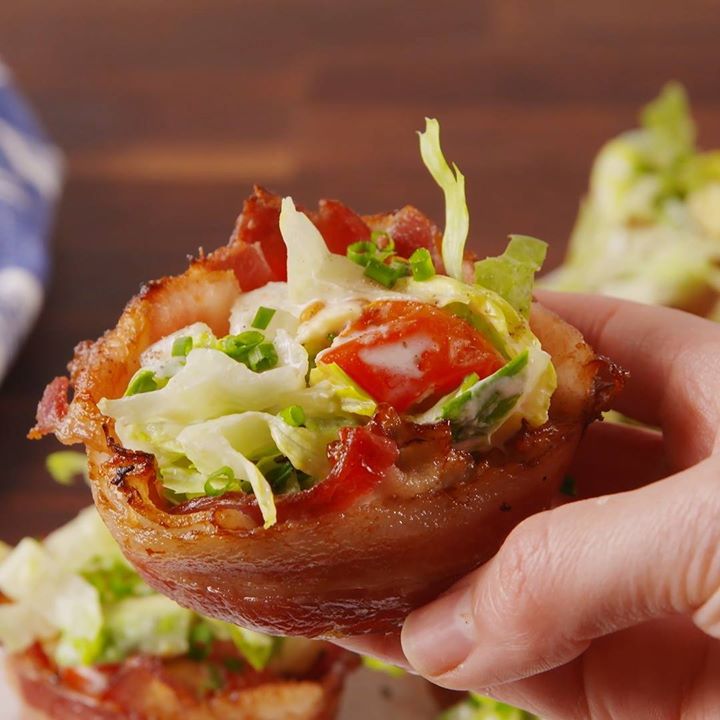 Ingredients
12 slices bacon
½ c. Greek yogurt
2 tsp. lemon juice
2 tbsp. chopped chives, plus more for garnish
kosher salt
Freshly ground black pepper
2 c. halved cherry tomatoes
1 head of romaine lettuce, chopped
1 avocado, chopped
Instructions
Preheat oven to 400°. Invert a muffin tin upside down onto a large rimmed baking sheet.
Cut 8 slices of bacon in half crosswise. Lay two of the halved strips onto an inverted muffin tin cup in the shape of a cross. Weave two more half pieces on both sides to create a mini weave. Wrap the entire cup with a whole slice of bacon. Repeat to make three more cups. Bake until crispy, about 20 minutes. Let cool for at least 15 minutes.
Make dressing: In a medium bowl, whisk together Greek yogurt, lemon juice and chives and season with salt and pepper. Add tomatoes and lettuce and toss to coat.
Remove bacon cups from muffin tin and fill with dressed lettuce and tomatoes. Garnish with more chives and serve.
Watch the recipe video here:
BLT Cups are the fun way to make your favorite sandwich low-carb. Full recipe: http://dlsh.it/IFI2sBH

Posted by Delish on Monday, April 9, 2018