Mexican Street Corn Mac 'N' Cheese
Mexican Street Corn Mac 'N' Cheese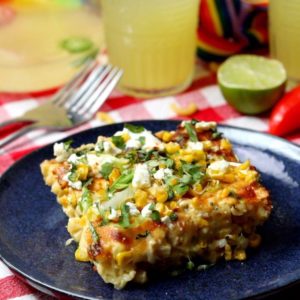 Ingredients
Mexican Street Corn Mac 'N' Cheese
2 corn on the cob
1 tbsp olive oil
Pinch of salt
Pinch of chilli powder
60g butter
2 cloves of garlic
60g flour
½ tsp chilli powder
½ tsp cayenne pepper
800ml whole milk
130g cheddar
130g mozzarella
195g can of sweetcorn, drained
4 spring onions, finely sliced
400g macaroni
100g cheddar and mozzarella mix
200ml sour cream
100g feta, crumbled
2 tbsp chopped coriander
3 spring onions, finely sliced
1 tsp chilli powder
Pineapple Jalapeno Margarita
1 cup tequila
½ cup triple sec
1 jalapeño, sliced
3 cups pineapple juice
½ cup lime juice
Instructions
Shave your corn to obtain your corn kernels. Spread them on a tray, coat with vegetable oil and grill on a high heat for 2 mins until they are toasted and starting to char.
Heat your butter in a large saute pan. Add your garlic and cook for 1 min until fragrant before adding your flour, chilli powder and cayenne pepper. Gradually add your milk in small increments, stirring constantly to prevent lumps from forming. Simmer for 2 mins, then remove from the heat. Add the mozzarella, cheddar, sweetcorn and spring onions.
Pour into a baking dish and top with 100g cheddar and mozzarella mix. Grill for 5 mins on a high heat until golden and bubbly.
Top with sour cream, feta, the charred corn, coriander and spring onions. Serve immediately and enjoy!
Pineapple Chilli Margarita
Add your tequila, triple sec and jalapeños to a pitcher and stir, and leave to infuse for a couple hours
Add 2 scoops of ice, your pineapple juice and your lime juice. Stir again and serve!
Watch the recipe video here:
https://www.facebook.com/1045035215535674/posts/2434469603258888/