Bundt Pan Roast Chicken
This easy hack results in a perfect roast chicken, and the veggies to go along with it!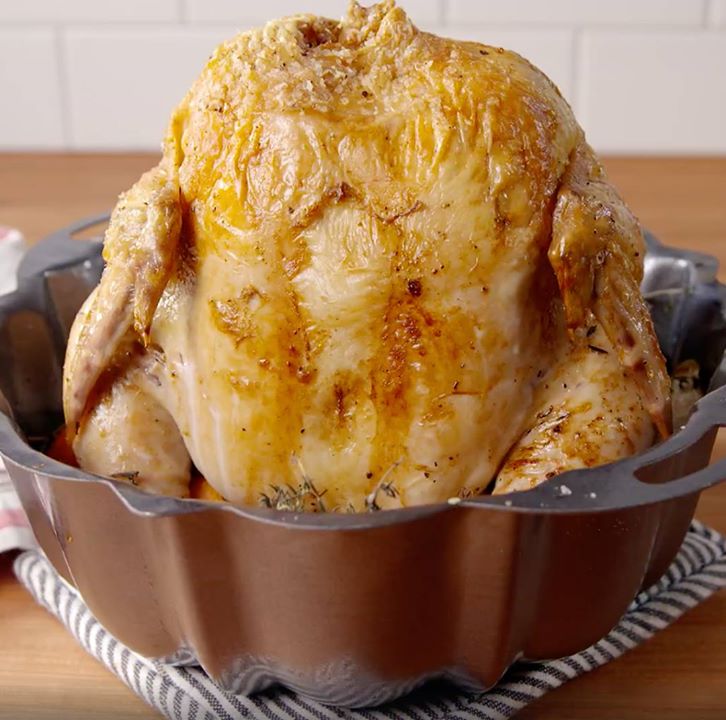 Ingredients
3 cloves garlic
2 carrots, chopped
1 onion, quartered
½ lb. yukon gold potatoes, quartered
extra-virgin olive oil
kosher salt
Freshly ground black pepper
1 large bunch fresh thyme
1 large bunch fresh rosemary
1 3-4 lb. chicken, gizzards removed
1 lemon, sliced
Instructions
Preheat oven to 425° and cover the hole of the Bundt pan with foil.
In the bowl of a large Bundt pan, combine garlic, carrots, onion, and potatoes. Toss with olive oil and season with salt and pepper. Scatter sprigs of fresh thyme and rosemary on top of the vegetables.
Pat chicken dry with paper towels. Season the inside of the cavity generously with salt and pepper, then stuff it with the lemon halves, a few sprigs of thyme, and a few sprigs of rosemary. Rub olive oil all over the skin of the chicken, then season generously with salt and pepper.
Place the chicken in the middle of the Bundt pan, breast side up. Bake until the chicken is cooked through and skin is golden, 1 hour to 1 hour 10 minutes. Let chicken rest for at least 15 minutes before slicing. Serve with roasted vegetables and extra pan juices.
Watch the recipe video here: