Pizza Rolls
These bite-size pizza rolls are like your favorite freezer aisle after-school snack but even better (yeah, we said it). We stuffed ours with crumbled Italian sausage, pepperoni, pizza sauce and, of course, plenty of cheese, then fried them so their wonton skin wrappers get super crisp. We dare you to compare.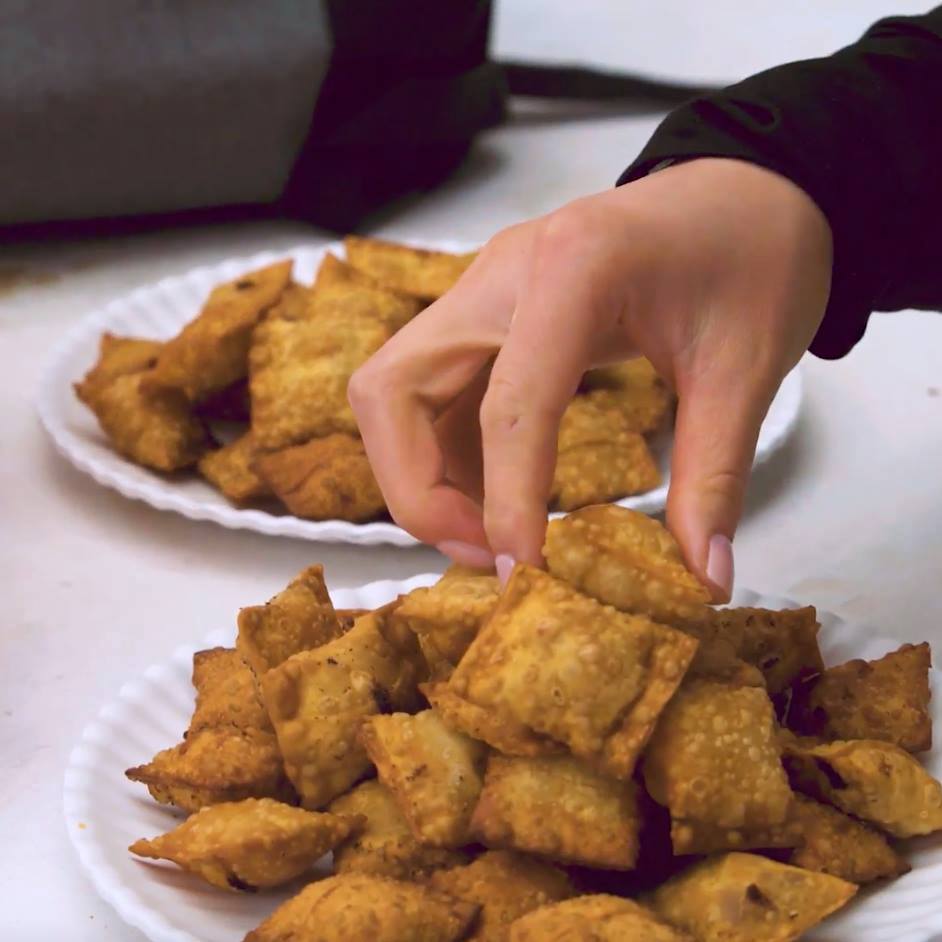 Ingredients
2 tablespoons olive oil
½ medium yellow onion, finely chopped (about 1 cup)
Kosher salt
12 ounces bulk sweet Italian sausage
One 2-ounce piece pepperoni, cut into ¼-inch dice
1 cup pizza sauce
1 teaspoon dried oregano
½ teaspoon granulated garlic
¼ teaspoon crushed red pepper flakes
6 ounces shredded mozzarella (about 1½ cups)
36 wonton wrappers
1 large egg, beaten
Canola oil, for frying
Instructions
Special equipment: a deep-frying thermometer
Heat the olive oil in a large nonstick saute pan over medium-high heat. Add the onion and a pinch of salt and cook, stirring occasionally, until lightly browned, about 5 minutes. Add the sausage and cook, using the back of a wooden spoon to crumble into fine pieces, until lightly browned and cooked through, about 5 minutes. Stir in the pepperoni, pizza sauce, oregano, granulated garlic and pepper flakes. Remove to a large bowl and allow to cool slightly. Fold in the mozzarella and season to taste with additional salt if needed.
Put 1 wonton wrapper down on a flat work surface. Put a slightly heaping teaspoon of filling in the middle of the upper half of the wrapper, then put a slightly heaping teaspoon of filling in the middle of the bottom half, making sure that the fillings are evenly spaced apart. Brush egg wash all around the fillings and on the edges of the wrapper. Fold both sides of the wrapper over the fillings letter-fold style, overlapping them and being careful not to press down on the fillings. Turn the wrapper over so that the seal is on the bottom, then use your fingers to gently press down in between the fillings and around the edges. Use a sharp knife to cut the wrapper in half between the fillings. Use your fingers to tightly seal both ends of the pizza rolls. Put the filled pizza rolls on a large baking sheet. Repeat this process with the remaining wrappers and filling.
Fill a Dutch oven halfway with canola oil and heat to 350 degrees F. Set a cooling rack over a baking sheet. Fry the pizza rolls in batches until golden brown and crispy, about 4 minutes. Transfer to the cooling rack. Once all the pizza rolls are fried, move them to a large serving platter and serve immediately.
Watch the recipe video here: