BBQ Chicken Burgers with Slaw
Recipe of the Day: Rachael's BBQ Chicken Burgers with Slaw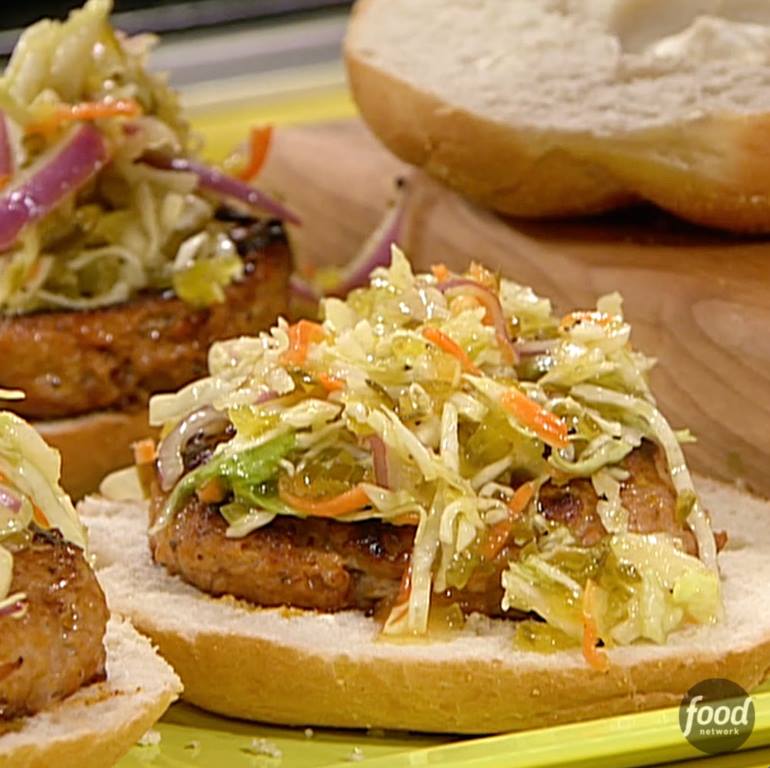 Ingredients
1 tablespoon butter, cut into pieces
1 small red onion, ½ finely chopped, ½ thinly sliced
2 cloves garlic, finely chopped
2 tablespoons tomato paste
1 teaspoon sugar
1 tablespoon Worcestershire sauce, eyeball it
1 tablespoon hot sauce, eyeball it
1¼ pounds ground chicken
1 tablespoons grill seasoning (recommended: McCormick brand) a palm full
3 tablespoons extra-virgin olive oil, divided
2 tablespoons honey, eyeball it
1 lemon, juiced
3 rounded tablespoons sweet pickle relish
2 cups shredded cabbage mix
Salt and pepper
4 cornmeal Kaiser rolls, split
Instructions
In a small skillet over medium heat, melt butter. Add chopped onions, garlic and tomato paste and sweat them for 5 minutes to soften and sweeten. Sprinkle in sugar and remove from heat. Cool in a bowl, 5 minutes. Add tomato paste mixture, Worcestershire, hot sauce to bowl and combine. Add chicken to the bowl then grill seasoning and combine the burgers well to evenly distribute the flavors and form 4 patties. Wash up.
Heat 1 tablespoon extra-virgin olive oil, a turn of the pan, in a nonstick skillet over medium-high heat. Cook patties 6 minutes on each side.
Combine the honey, lemon juice, and remaining extra-virgin olive oil in a bowl. Add relish, cabbage mix and sliced onions and season with salt and pepper. Toss the slaw to coat and reserve.
Serve burgers on bun bottoms topped with slaw and bun tops.
Watch the recipe video here: