SAUSAGE AND CHEESY MASH PIE
As the nights close in, it's the ideal time to curl up on the sofa with a big bowl of proper comfort food. If you're after an indulgent alternative to traditional bangers and mash, this cheesy mash and sausage pie ticks all the boxes. Gather the family, grab a fork and dive in. Dinner is served.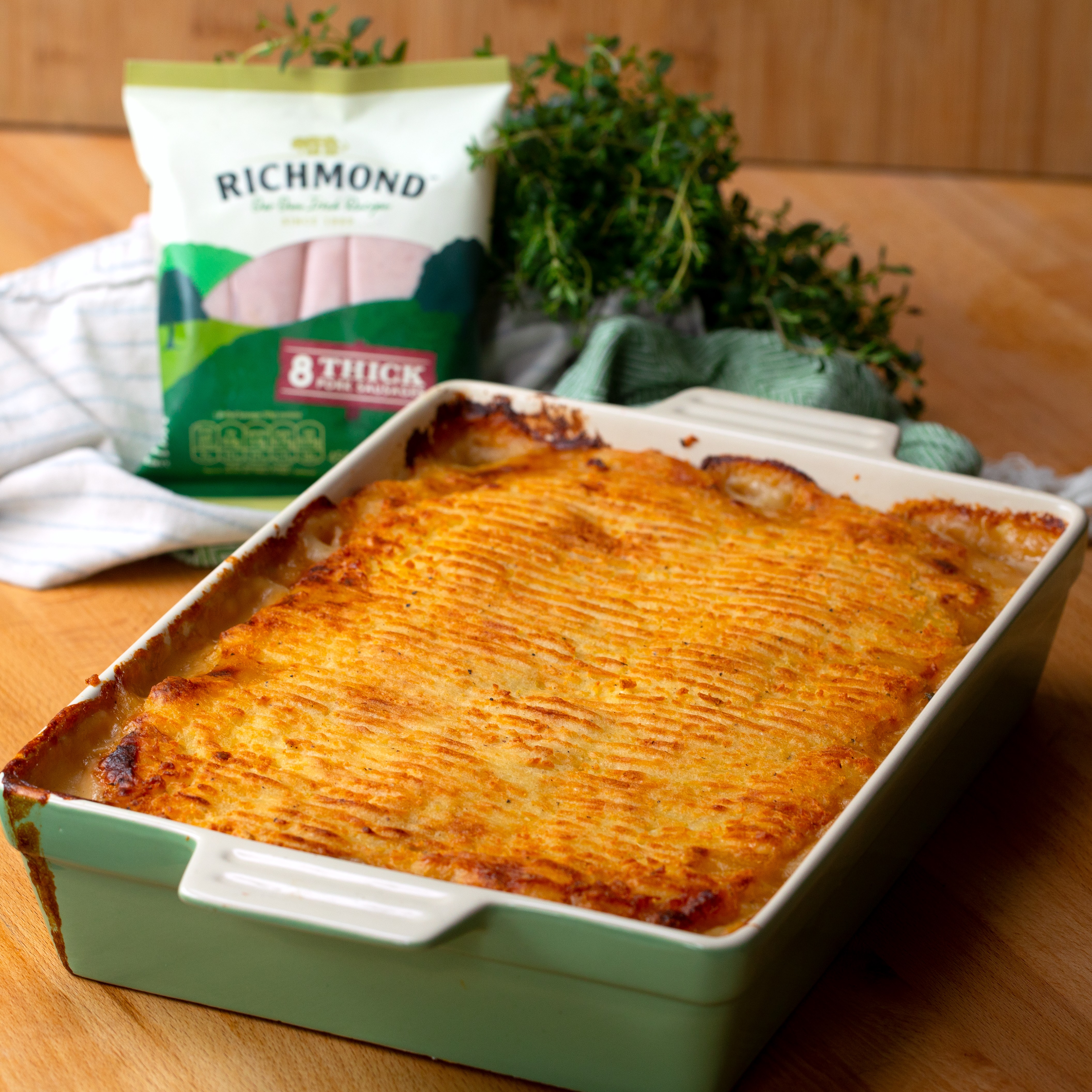 Ingredients
1kg floury potatoes (eg King Edwards), peeled and cut into chunks
50g butter
50ml whole milk
Salt & pepper
100g cheddar, grated
12 Richmond sausages
2 brown onions, peeled and sliced
200g chestnut mushrooms, sliced
2 tbsp thyme leaves
50g butter
40g flour
500ml chicken stock
1 tsp white wine vinegar
1 tsp Worcester sauce
Instructions
Boil the potatoes and mash with the butter and milk. Season to taste. Stir through the cheese.
Heat the oven to 180°C. Fry the sausages until brown, then cut into chunks and put in an oven dish.
For the gravy, fry the onion until soft, then add the mushrooms and fry until cooked out. Add the butter and heat until foaming, then add the flour and stir everything together to make a roux. Gradually pour in the stock, stirring thoroughly as you go. Add white wine vinegar along with the Worcestershire sauce and simmer for 2-3 mins.
Pour the gravy over the sausages, then top with the mash and run a fork over the top to give the pie some texture. Bake for around 20 minutes until the gravy is bubbling and the mash has gone golden brown.
Watch the recipe video here:
Sausage and Cheesy Mash Pie

Posted by Twisted on Monday, October 29, 2018